Deputation of traders meets CP Ludhiana Gurpreet Singh Bhullar
Apprised him of day-to-day problems being faced by the traders' community in the Ludhiana city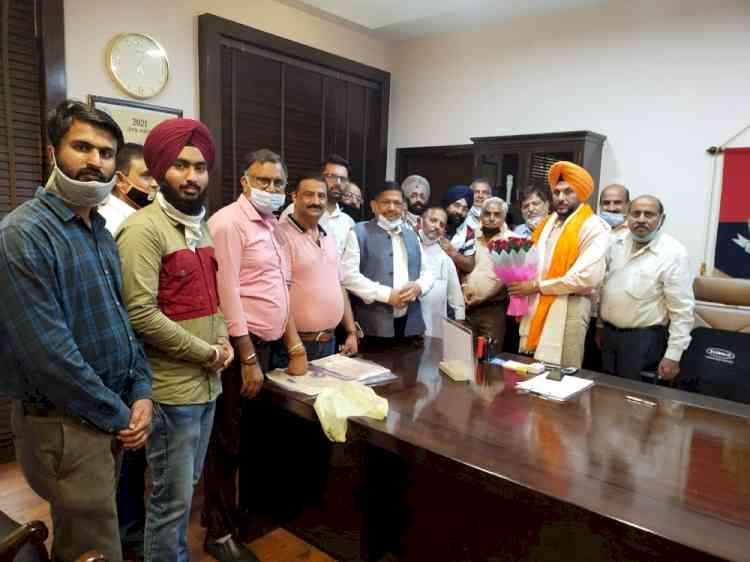 Ludhiana, October 1, 2021: A deputation of traders met Commissioner of Police, Ludhiana Gurpreet Singh Bhullar today and apprised him of day-to-day problems being faced by the traders' community in the city.
The deputation was led among others by Punjab Pradesh Beopar Mandal state general secretary Sunil Mehra, district president Arwinder Singh Makkar, chairman Pawan Lehar, Sunder Nagar Hosiery Association mandal unit general secretary Pawan Malhotra, Ludhiana Consumer Products Distribution Association president and CAIT Punjab president Harkesh Mittal and Baghwali Gali president Rajesh Gupta. 
The deputation apprised the police commissioner about the rising incidents of snatchings and traffic problems.
The CP was also told that the traffic management in the city was in a pathetic condition. They demanded that the vehicular traffic should be properly managed particularly in the coming festival season and hosiery season. The deputationists also expressed their concerned over the rising incidents of snatchings and thefts in the city, resulting to which traders coming out of the city were in utter fear. They feared that these incidents would increase further if police administration failed to control them now.    
Sunil Mehra said CP assured the deputationists that the vehicular traffic would be streamlined soon and special campaign against anti-social elements and snatchers would be started soon. He added CP asked the traders to extend their full support in executing the tasks against anti-social elements and snatchers etc.
Among others, Banwari Harjai, OP Bhardwaj, Adv Manish Ahuja, Anil Kumar, Dushyant Goel, Ashwani Garg, Naresh Goel, Baljit Singh Minkal and Balwant Singh were present.