Deputation of Punjab Pradesh Beopar Mandal meets DETC Tejvir Singh Sidhu
Apprised officer about problems being faced by traders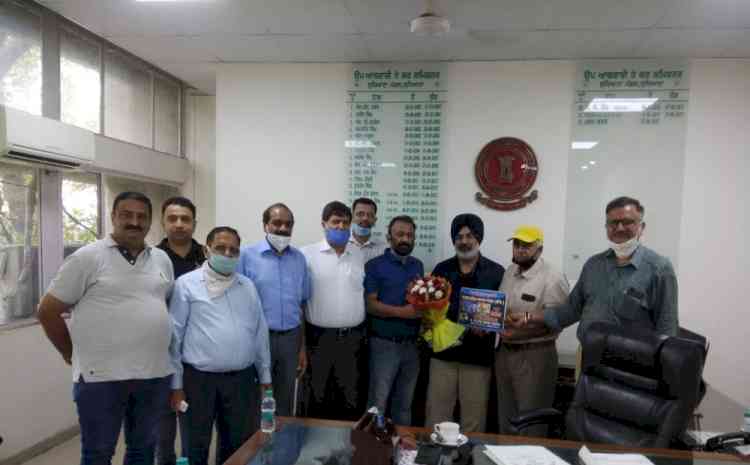 Ludhiana: A deputation of Punjab Pradesh Beopar Mandal under the leadership of state general secretary Sunil Mehra, state secretary Mohidner Aggarwal and chairman Pawan Lehar met DETC Tejvir Singh Sidhu and discussed some important issues.
The deputation apprised the officer about the problems being faced by the traders. Both Sunil Mehra and Mohinder Aggarwal apprised Sidhu that the government should settle the old cases of the traders by getting one-time payment.  They opined that with this, the government would earn revenue and traders would get relief. They revealed that the predecessor SAD-BJP government had taken a decision to this effect but it had not been implemented after change of the state government in Punjab.

Mohinder Aggarwal said the government used to collect all taxes from the traders but no effort was being made to release old VAT refunds. They pointed out that all the businesses were affected badly due to lock down and facing acute financial crisis. The traders would get a relief if VAT refunds were released at this time of crisis, they said.   

Pawan Lehar said the bureaucracy was harassing the traders by one or the other manner. They urged upon the government to tighten noose of the bureaucracy so that traders might do their businesses with ease. 

Sidhu heard the grievances and the problems of the traders and assured to get them resolved soon by placing them before the higher authorities.

Sidhu was honoured as a corona warrior by the Punjab Pradesh Beopar Mandal. 

Pawan Malhotra, Banwari Harjai, Parveen Goel,Rakesh Kapoor, Rohit Lehar, Manish Ahuja Advocate, Sanjay Thapar and others were present.