Delegation meets traffic officials in Ludhiana city 
Demand for deployment of traffic constable on permanent daily basis during peak hours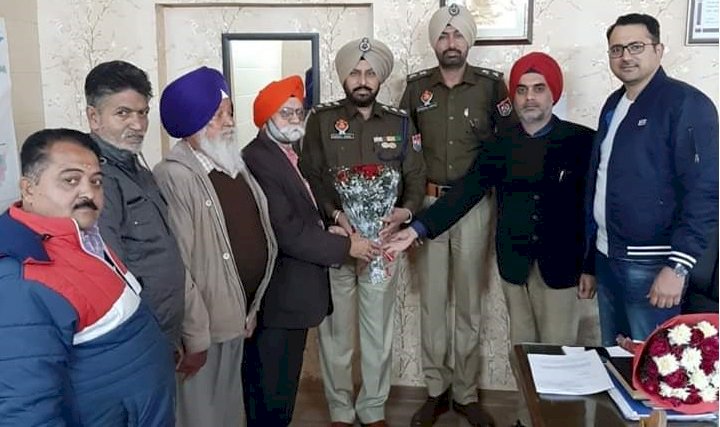 Ludhiana: A delegation comprising Vineet Pal Singh Monga-Punjab State Secretary-Pradhan Mantri Jankalyankari Yojna Prachar Prasar Abhiyan,BJP,Kanwaljit Singh Monga-Ludhiana District President(Urban)-Rashtriya Sikh Sangat,Surjit Singh,Sukhhbir Bedi,Sikander Kumar Bhagat and others met the ACP Traffic Ludhiana-Sardar Gurdev Singh, PPS and handed over a memorandum of demands.
The delation demanded deployment of Traffic Constable on permanent daily basis during peak hours at two traffic bottlenecks one at Manjit Ice Cream Chowk/Kochar Market Chowk,at the Junction point of Ward No.67 & 68 ,Ludhiana near Community Centre & other at Pakhowal Road –Kochar Market turn near traffic lights to check mismanagement of traffic during peak hours of around 9.00 AM-11.00 AM,2.00 PM-3.00 PM and around 8.30-9.30 PM during night hours.
The ACP traffic assured that he would deploy permanent traffic constable at the earliest on daily basis during peak hours at above two mentioned traffic bottlenecks to check traffic menace and streamline traffic at these two critical junctions, one at the junction point of Ward No.67 & 68 at Kochar Market Chowk, Ludhiana and other at the Pakhowal Road-Kochar Market turn along ward No.67 in public interest.The Memorandum has been duly signed by area residents from Ward No.67,68.
The Delegation appraised the ACP traffic Sardar Gurdev Singh,PPS about the traffic mismanagement at these two critical traffic bottlenecks and seeked his kind attention and intervention in this matter in public interest.
The delegation also did floral felicitation of the ACP Traffic Sardar Gurdev Singh, PPS in presence of DCP Traffic Sardar Sukhpal Singh,PPS on him being rewarded with Police Medal by President of India Shri Ram Nath Kovind and Chief Minister of Punjab Capt Amarinder Singh for his exemplary services and initiatives for regulating and bringing reforms in "Traffic Management " in Ludhiana City.
The delegation also verbally requested DCP Traffic Sardar Sukhpal Singh,PPS and ACP Sardar Gurdev Singh,PPS to make one way entry in Feroze Gandhi Market, the entry should be from Nehru Siddhant Kendra Side on Pakhowal Road and exit should be towards A Hotel side on Ferozepur Road to check traffic bottleneck in Feroze Gandhi Market.
The DCP traffic and ACP traffic assured the delegation that one way entry and exit would be soon implemented in Feroze Gandhi Market in public interest.
The delegation also requested the ACP traffic to continue with the anti-encroachment drive in coordination with Municipal Corporation Ludhiana Improvement Trust Ludhiana and PUDA/GLADA to streamline the Traffic in Ludhiana City and check illegal encroachments on public land.