DC visits control room at DAC, pats staff for rendering marvelous service during covid-19 crisis
Asks them to continue their work with missionary zeal to win war against corona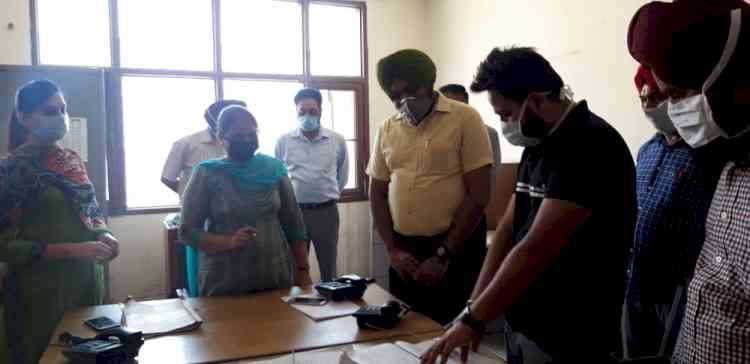 Ferozepur: Deputy Commissioner Ferozepur Mr. Kulwant Singh today patted the team of officers performing the duty at the control room during the entire Covid 19 crisis. 
 
The Deputy Commissioner, accompanied by the Additional Deputy Commissioner Mr. Ravinder Pal Sandhu, Assistant Commissioner Mr. Ravinder Arora, District Food and Civil Supplies Controller Mr. Pinder Singh visited the control room set at the District Administrative complex.
 
During interaction with the staff deputed at the control room, he lauded the role played by these officers/ officials during the crisis. Mr. Kulwant Singh said that the control room actually acted as bridge between the administration and the masses to redress the problems being faced by the people. 
 
The Deputy Commissioner said that on the directives of state government the district administration has evolved a viable mechanism to redress the grievances of people. He said that senior officer of the administration was deployed to monitor the control room. The deputy commissioner said that during the peak of crisis the control room received more than 3000 complaints daily which were effectively redressed. 
 
The Deputy Commissioner said that the complaints were sent to the concerned departments and timely action was ensured under the supervision of the officers. He said that now the calls have been reduced considerably but yet the work was not over adding he asked the officers to continue their duty with missionary zeal so that people could be benefitted from it. 
 
The Deputy Commissioner said that though the work load on control room may have been reduced but the danger of Covid-19 was not yet over so the officers must remain extra vigilant. He said that this was the need of the hour to win the war against Corona Virus.