DC unfurls tricolour in SBS Nagar on 73rd Republic Day
Exhorts people to break previous records of voting by participating in large numbers to strengthen democracy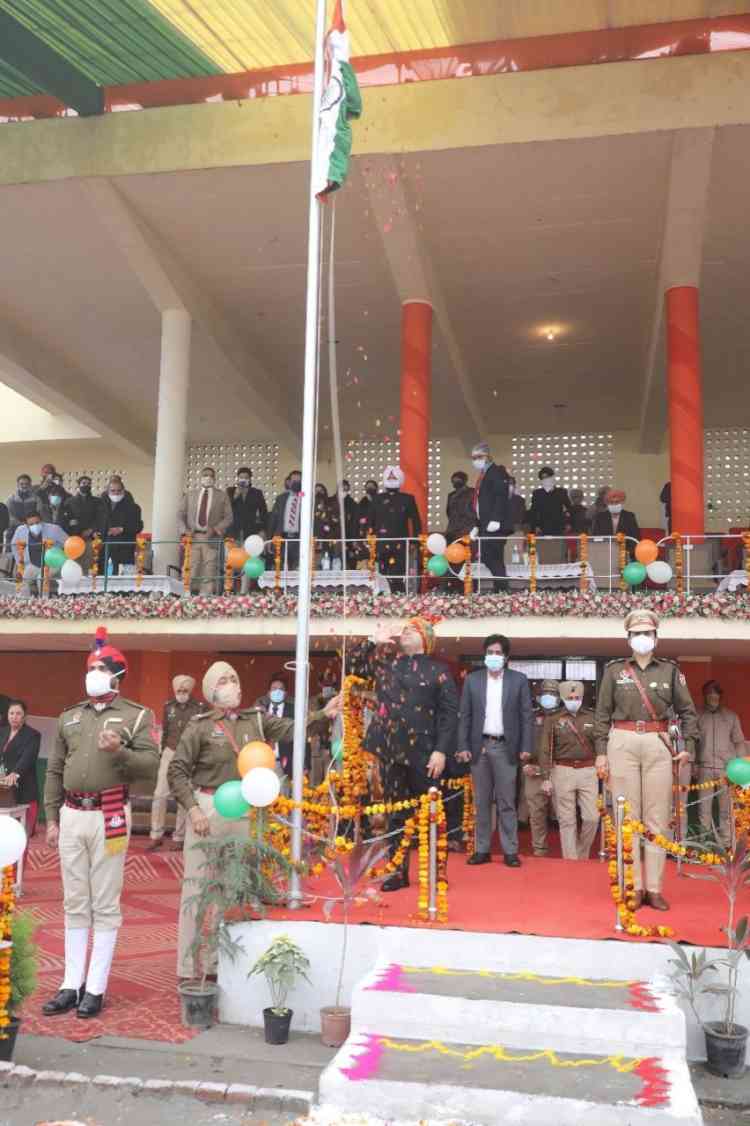 Nawanshahr, January 26, 2022: Exhorting the people of Shaheed Bhagat Singh Nagar district to break the previous records of voting by participating in large number during these assembly elections, Deputy Commissioner Vishesh Sarangal said that their huge turnout on the polling day (February 20) would further strengthen the foundation of Indian democracy.
Addressing the people after unfurling the national flag here at local ITI Ground during 73rd Republic Day celebrations, Deputy Commissioner said that the historical participation of the voters in the elections would set new milestones and would make India more vibrant nation in the world. He said that it is an honour to be an elector in the largest democracy of the world and reminded the electorate by exercising their fundamental right to vote, they would be fulfilling aspirations of coming generations and would create strong system that will further take the country to the greater heights.
Saluting the doctors, healthcare and frontline workers for their unmatched resolve in the fight against Covid-19 pandemic, Deputy Commissioner Vishesh Sarangal said that due to their commitment and dedicated efforts, Punjab has emerged as victorious in this war against an invisible enemy. He said that eligible people must come forward for vaccination which would ensure their safety from the ill-effects of this deadly virus.
Paying rich tributes to the father of Indian Constitution, Sarangal said that Indian Constitution is the result Dr. Ambedkar's hard work, dedication and vision and asked the people to follow the path shown by him. He called upon them to make dedicated efforts securing justice and equality for all the sections of society.
Appealing the people to take a firm pledge on this historic day for making Punjab a progressive state, he said that it is the need of the hour to cherish the aspirations of freedom fighters who made supreme sacrifices to free our motherland from oppressive forces.
He said that on this auspicious day, India became a sovereign and democratic nation adding that every year this august day was celebrated with great enthusiasm and gaiety. He told that that unprecedented sacrifice of martyrs would ever act as a lighthouse for our future generations.
Earlier, Chief Guest took a salute during an impressive march past by three contingents of Punjab Police (women and men), NCC led by the parade Commander DSP Shahbaz Singh.
He also honoured around 24 prominent officers, doctors, NGOs, and persons from various walks of life for their remarkable contribution towards society and the Covid-19 war.
Prominent among present on the occasion included District and Sessions Judge Kanwaljit Singh Bajwa, Senior Superintendent of Police Kanwardeep Kaur, Additional Deputy Commissioners Jasbir Singh, Amardeep Singh Bains, Amit Sareen, Superintendent of Police Manvinderbir Singh, SDM Dr Baljinder Singh Dhillon, Assistant Commissioner Deepankar Garg, Civil Surgeon Dr Davinder Dhanda and others.
Meanwhile, before unfurling the national flag, Deputy Commissioner Vishesh Sarangal along with Additional Deputy Commissioner Jasbir Singh paid floral tributes at the statue of Dr BR Ambedkar near bus stand.