DC, SP and CMO visits corona cured, presents bouquets
3 corona patients cured today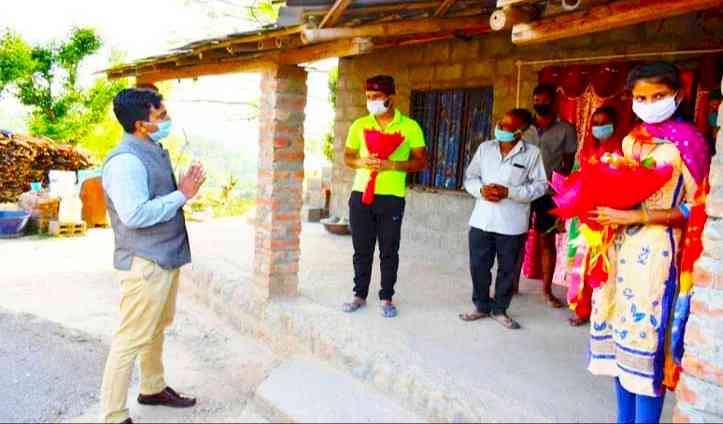 Dharamshala: DC Kangra Rakesh Prajapati  along with SP Vimukta Ranjan and CMO Dr. Gurdarshan Gupta visited   and greeted  a brother and sister in their house in  village Jheerballa of the district on Tuesday. Both of them have defeated Corona and returned home after their treatment at Isolation Center, Baijnath earlier today. Both were presented bouquet by these officers. Villagers including their family members were glad to see these officers at their place.
The visit of these officers in the house of corona cured patient, sent a strong message in the area that anyone should not be discriminated socially on the basis of getting ill due to Covid-19.  
Today in Kangra district, samples of three Corona positives were tested negative, who were under treatment at Isolation Center, Baijnath. Two of them belong to Jheerballa while the third hails from Gheen area. They have been directed to stay in home quarantine for 8 days.
Both these brother and sister of Jheerballa were tested Covid-19 positive earlier. They were cleared negative on Tuesday and were sent to their home through an ambulance.
DC Kangra, Rakesh Prajapati said to the public gathered  there, "Don't discriminate Corona patients socially, as awareness is the only weapon through which this virus can be defeated. Corona is a virus leading to some disease which can be cured if proper care and treatment is taken. it is  a matter of happiness that both brother and sister, who were tested Covid-19 positive a few days ago, returned home after their treatment at Isolation Center, Baijnath."
Rakesh Prajapati said, "All should follow the norms issued by health authorities and immediately intimate the administration when anyone from outside the State enters their area. It simply helps in containing Corona infection. People should contact health department if any one of them suffer from cough, cold, fever or shortness of breath."
Deputy Commissioner told here at Dharamshala that as many as 109 samples of Kangra district were tested negative today.