DC Ludhiana thanks residents for responding to call of "janta curfew" today
Says, no positive case of Covid 19 in Ludhiana District till now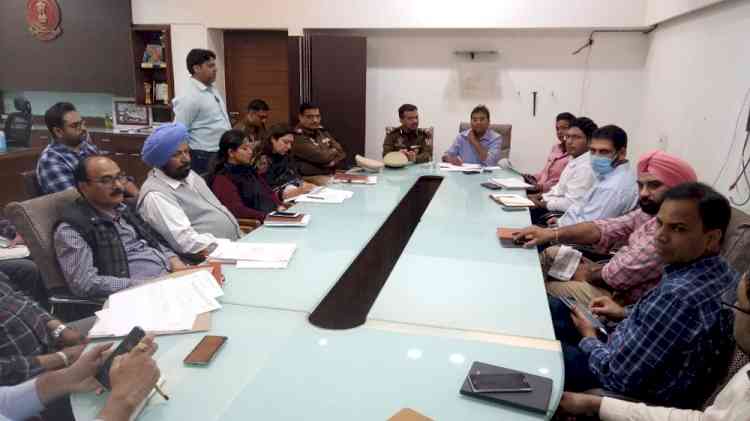 Mr Pradeep Kumar Agrawal, DC, Ludhiana on Sunday, chairs a meeting related to COVID 19 in his office.
Ludhiana: Deputy Commissioner Mr Pradeep Kumar Agrawal today informed that there is no positive case of Novel Coronavirus (COVID 19) in district Ludhiana till now. He said that all the samples sent for testing have come out negative. He also thanked the residents of district Ludhiana for supporting the "Janta Curfew" call given by Prime Minister Mr Narendra Modi.
    Mr Agrawal also chaired a meeting related to COVID 19 in his office in the evening, which was also attended by Commissioner of Police Mr Rakesh Kumar Agrawal, ADC (Development) Mrs Amrit Singh, MC Additional Commissioner Mr Sanyam Aggarwal, ADC (General) Mr Iqbal Singh Sandhu, ADC (Jagraon) Mrs Neeru Katyal Gupta, ADC (Khanna) Mr Jaspal Singh, ADCP Mr Deepak Pareek, all SDMs, Civil Surgeon Dr Rajesh Kumar Bagga, DFSCs, besides several others. The Deputy Commissioner assured that the common man would not suffer in the coming days.
    The Deputy Commissioner informed that in exercise of powers under the Epidemic Diseases Act, 1897, the Government of Punjab has already issued the Punjab Epidemic Diseases, COVID19 Regulations, 2020 for the containment and prevention of the spread of COVID19. Whereas it is imperative to put in place strict measures of isolation and social distancing to contain the spread of COVID-19 in the district. 
    Whereas in exercise of the powers conferred under the Rule 12 of the Punjab Epidemic Diseases, COVID19 Regulations, 2020, a lockdown is directed in the territorial jurisdiction of the district in public interest with immediate effect upto March 31, 2020 (inclusive).
    All shops, commercial establishments, offices and factories, workshops, godowns etc. shall close their operations, no public transport services including operation of taxis/auto rickshaws etc. shall be permitted except transport of all kinds to and from hospitals, airports, railway stations, bus terminals/bus stands. Specific routes to be allowed in the districts shall be decided by the Secretary RTA, Ludhiana today itself, strict home quarantine shall be observed by all foreign returnees (who landed in India on or after 06.03.2020) and their contacts/other persons at risk as decided by the District Administration, all such foreign returnees (who landed in India on or after 09.03.2020) shall also mandatorily contact the District Administration (by calling 104/112/01612444193) and register themselves for home quarantine (they may also register on the COVA Punjab Mobile App) – failing which they shall be liable for legal action, people are required to stay at home; and come out only for essential services and that too one member of a family at a time and strictly following social distancing guidelines issued earlier, any gathering of more than 10 persons in public places shall be prohibited. 
    However, these restrictions shall not be applicable on all the essential commodities and services as defined under the Order No. JED (1455)-2020/855 of the Department of Food and Civil Supplies of 21.03.2020 and their manufacturing, supply chains, required transport and other logistics to ensure their availability, public Offices (including officials and employees) tasked with emergency, law and order and essential function such as DC/SDM/Tehsil & offices subordinate to them, Police, Health, Urban local bodies, Fire, Defence Establishments and Central Police/Paramilitary Organisations including NDRF, Rail & Air Transport – they must comply with all the precautions and advisories issued by the Government, Local Transport (as notified by Secretary, RTA Ludhiana). All goods vehicles including those carrying the essential items shall be allowed to ply. 
    The drivers and workers loading/unloading shall take necessary precautions, Electricity, Water and Municipal Services, Banks and ATMS, Print and Electronic Media including social media, Telecom/Internet and Cable operators and agencies appointed by them to maintaining communication, essential IT services and internet services, Postal services, E-Commerce and its home delivery, Shops of Food, Groceries, Milk, Bread, Fruit, Vegetable, Eggs, Meat, Fish etc. (including departmental stores and supermarkets), Supply of beverages, Fair Price Shops under PDS, Restaurants/ eateries for take-away or home delivery only (no dine-in shall be permitted), Hospitals, Chemists including Optical stores and manufacturing units of pharmaceuticals, bulk drugs, agro chemicals, Petrol pumps, LPG gas, Oil agencies, their godowns etc, Insurance companies, Any establishment designated by the District Administration as state quarantine facility. Above establishments are directed to follow the guidelines related to social distancing and sanitize their establishments on regular basis.
    The following shall apply to the office of Deputy Commissioner Ludhiana via email [email protected] for permission to continue to operations, and will be bound to comply with any directions issued, i.e. Production and Manufacturing Units which require continuous process and Other private establishments that support the above essential services or which are needed to function in public interest.
    These orders are to be meticulously complied by all concerned and violations shall be dealt with severely under relevant provision of the IPC. Executive Magistrates/ SHOS/ EOs in MCs/ ACA GLADA /Commissioner MC Ludhiana and all the BDPOS shall be personally responsible for the implementation of these orders in their respective jurisdiction.
    He further informed that a special awareness drive would also be launched in the district from tomorrow onwards, in which residents would be educated about ways to save themselves from COVID 19.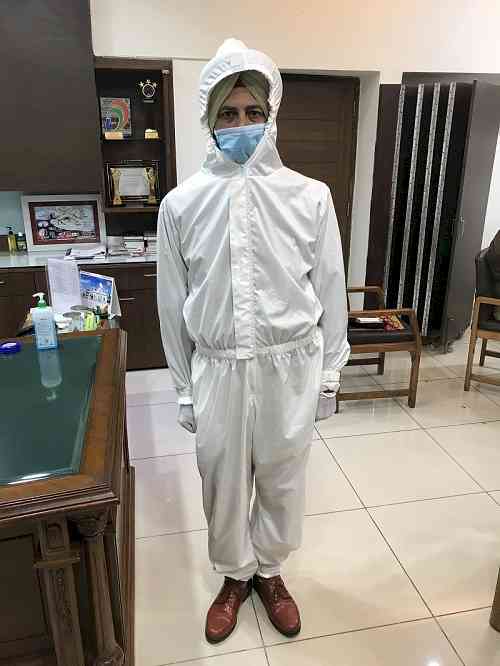 The office of Commissioner of Police have informed that the police officials have been busy in tracking persons who have come back from foreign countries. Mr Rakesh Kumar Agrawal informed that a special suit has been procured by the police, that would be worn by the officials whenever they are on duty in relation to COVID 19.