DC Ludhiana kicks off self-safety slogan drive against covid-19 in Ludhiana  
The slogans will spread awareness amongst people from all sections of the society through Social media platforms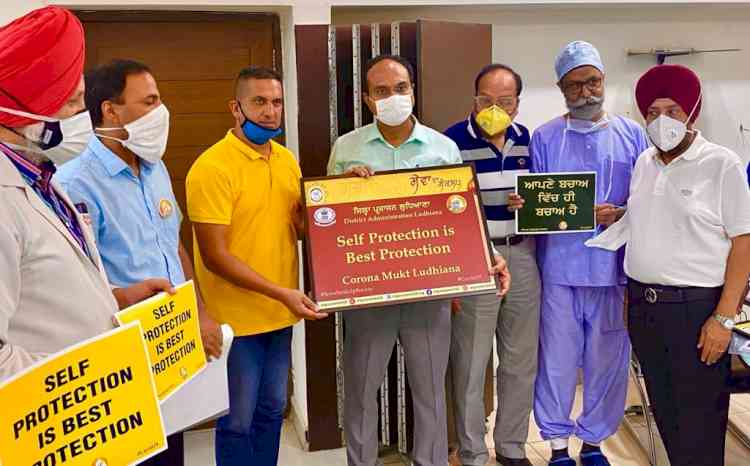 Ludhiana: For educating the masses about ways to save themselves from COVID 19 and to make a "Corona Mukt Ludhiana", Mr Varinder Kumar Sharma, Deputy Commissioner, Ludhiana, along with Additional Deputy Commissioner (General) Mr Amarjit Bains today launched self safety slogan drive of Sewa Sankalp Society in the DC office, here.
Sewa Sankalp Society Vice President Mr Harpreet Sandhu (Advocate), eminent Doctors from DMC Ludhiana Dr. Gurpreet Wander and Dr. Bishav Mohan, Dr Vivek Saggar, Dr Baldev Singh Aulakh, eminent industrialist Mr Navneet Jairath, Mr Sonu Nilibar, Mr Mohinderpal Singh Sehgal, besides others were also present on the occasion.
Deputy Commissioner also launched a mobile app, a short film on safety norms to be followed by Citizens of Ludhiana prepared by City Lawyer Mr Harpreet Sandhu. He also thanked the members of Sewa Sankalp Society and appealed them to make Mission Fateh of the Punjab government successful.
While providing information, Mr Harpreet Sandhu asserted that the slogans will spread awareness amongst people from all sections of the society through Social media platforms such as Facebook, Twitter, Instagram, Whatsapp etc. To make city residents aware about the self safety-the best cure during Covid-19, Ludhiana Mayor Balkar Sandhu also released the slogans while cycling in the open area, indicating to follow social distancing. 
As we all are witnessing that entire World is under the grip of the Covid-19 Pandemic which has infact affected every aspect of life. We were able to curb its spread to some extent by imposition of lockdown but on the same time it had great impact within commons in terms of Socio - Economic factors. But as now there is no lockdown, it is important for the residents to become more vigilant and take on their personal responsibility by following few simple steps to maintain hygiene and comply with the orders issued by the District Administration for sake of their own safety and this way contribute their part in making the whole process fruitful.