DC Ludhiana directs health officials to hold camps for speeding enrollment under UDID Scheme
ADC Development to oversee implementation of program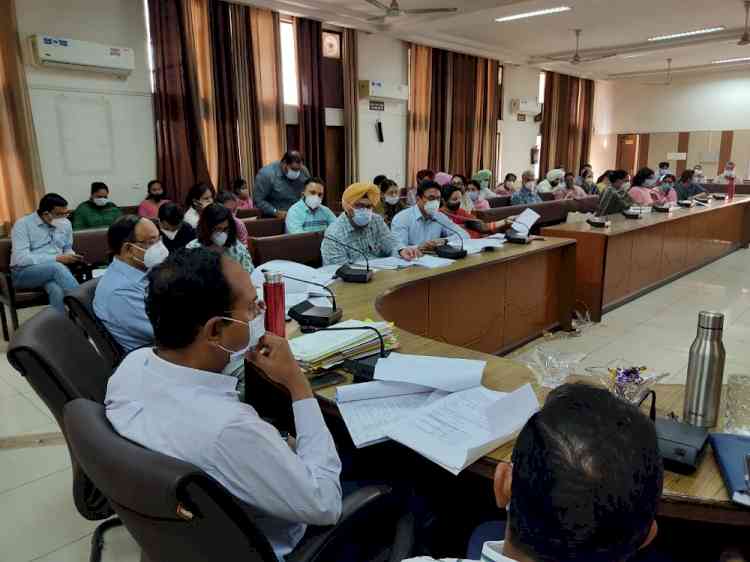 Ludhiana: To ensure registration of all eligible specially-abled beneficiaries under the Unique Disability Identity (UDID) scheme, Deputy Commissioner Mr Varinder Kumar Sharma on Tuesday directed the health officials to speed up the enrollment to ensure benefit to all specially-abled persons of the district. 
Presiding over a meeting held in Bachat Bhawan, Deputy Commissioner asked them to plan special camps to provide one-stop solution to all the beneficiaries with facilities like on-spot registration and medical examination by experts.
He said these camps would provide one-stop solution to all eligible beneficiaries with facilities like on-spot medical examination by expert physicians besides others.
Mr. Sharma said that specially-abled persons are an integral part of our society and no stone would be left unturned to serve them as it was the administration's duty to provide them with the equal job and social security opportunities.
He also called upon specially-abled persons to carry their Aadhar card, Voter's ID card, or any other age proof along with their passport size photo to get themselves registered for UDID cards.
The deputy commissioner mentioned that by using the UDID cards visually impaired persons could avail the benefit of the free bus traveling besides employment opportunities, and other necessary facilities.   
He said that during these camps, all the eligible beneficiaries must get all the requisite facilities under one roof and expert panels to conduct the physical examination of applicants would also remain present in the camps.
Mr Sharma added that Additional Deputy Commissioner (D) Sandeep Kumar would oversee the implementation of the program. 
He also reviewed the progress of the other health programs and asked them to ensure people do not suffer any kind of problem in availing the service. 
Prominent among present occasion included Civil Surgeon Dr Sukhjeewan Kakkar and others.