DC launches online documentary, "Reviving Tourism Of Punjab" dedicated to World Tourism Day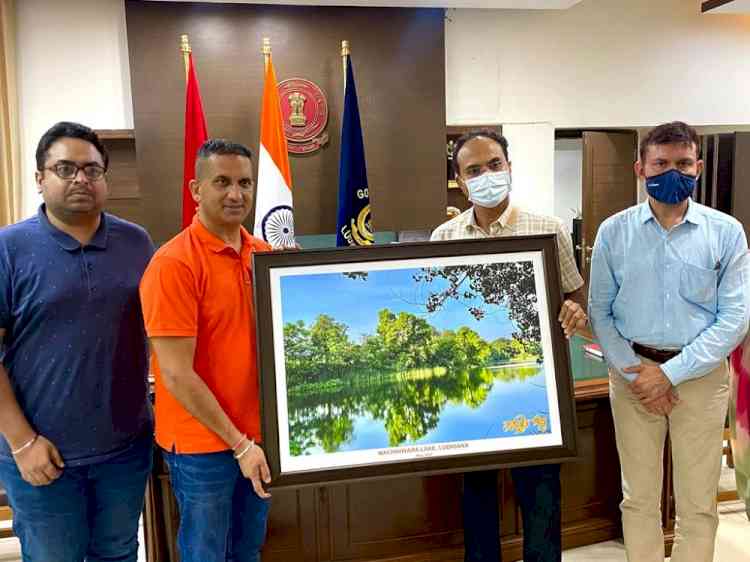 Ludhiana, September 27, 2021: Deputy Commissioner Ludhiana Varinder Kumar Sharma along with Additional Deputy Commissioner (General) Rahul Kumar Chaba, Assistant Commissioner Parleen Kaur Kaleka and District Public Relations Officer Puneet Pal Singh Gill today launched online a short Documentary titled, "Reviving Tourism of Punjab" dedicated to World Tourism Day i.e. September 27, 2021, depicting Harike Pattan Wetlands, prepared by Punjab based Lawyer and Nature Photographer Harpreet Sandhu. The Documentary highlights the most pretty and scenic Wetland – Harike Pattan, located in Punjab, famous for the natural lake, created by the confluence of Sutlej and Beas Rivers. During the event special portraits depicting beautiful Nature locations around Ludhiana were also placed at Mini Secretariat in Ludhiana.
Deputy Commissioner Ludhiana after launching the Documentary appreciated the efforts of Nature Photographer Harpreet Sandhu and said that the Documentary beautifully depicts the serene calmness and natural beauty of Harike Pattan Wetlands, and bring alive panoramic views of this romanticizing location, giving one glimpse of beautiful meadows, heavenly Sunrise and sparkling water whirring from all directions and rather true vibrant colours of country side nature of Punjab.
Rahul Chaba, PCS said that the Nature portraits are really awe-inspiring and will be of immense interest for citizens of Ludhiana as they can witness these natural locations around our city.  
Harpreet Sandhu said that he has prepared this documentary film with sole aim to Revive Tourism in Punjab by show casing the pictorial visuals of Harike Pattan Wetlands within nature lovers across the globe, enabling them to witness this particular natural beauty of this scenic locations on the land of Punjab.
He also gifted a set of 8 photographs of scenic locations of district Ludhiana to the district administration.