DC initiates mega plantation drive in Government College for Girls under Mission Tandarust Punjab
Move aimed at making Ludhiana clean, green and pollution free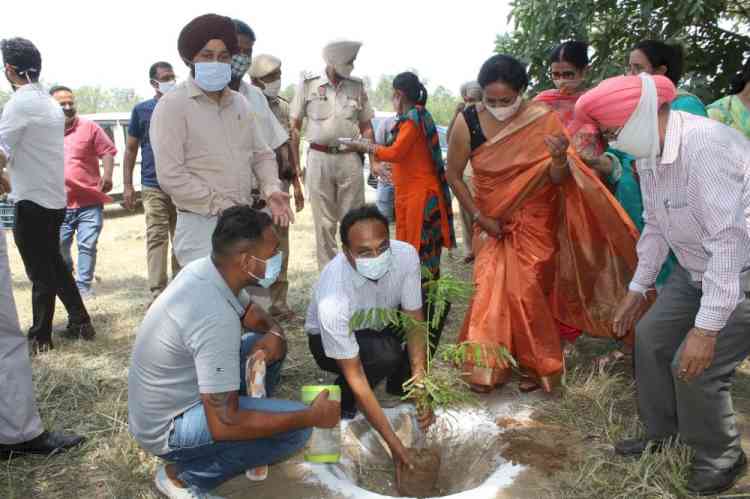 Ludhiana: Continuing the initiative of the district administration to enhance green cover in Ludhiana, Deputy Commissioner Varinder Kumar Sharma on Friday kick-started a mega plantation drive in Government College for Girls under Mission Tandarust Punjab.
Accompanied by Assistant Commissioner Dr Harjinder Singh Bedi, the Deputy Commissioner said that this drive has been embarked in consonance with the commitment of the Punjab Chief Minister Captain Amarinder Singh to encourage people to plant more and more saplings for making Punjab clean, green and pollution-free. He said that from July 1, the administration has already been running a campaign to plant 4.25 lakh saplings at vacant places in this monsoon season. 
He added that vacant places for the plantation have been identified in the urban and rural areas of Ludhiana. He further said that the plantation drive is a humble tribute to our Great Gurus whose teachings show us a way to preserve the environment. He said that the drive would help in enhancing the green cover on one hand and reducing environmental pollution on the other.
He added that major focus is being laid on planting traditional varieties of plant which are best suited for the environment of the state. 
Exhorting the residents of the district to play a pivotal role in making it a clean, green and pollution-free district, he said that such plantation drives are all the more important as the depleting green cover is a cause of concern for everybody which poses a serious hazard to the environment and human health. 
Sharma said that it is the bounden duty of every individual to come forward and plant more and more saplings to provide green lungs to our district. 
Soliciting fulsome support of people in this noble cause, he called upon the people to plant and upkeep at least one sapling for the sake of our coming generations.
Principal Dr Sukhwinder Kaur said that 2000 saplings would be planted in this week-long program and every employee of the collection would ensure proper upkeep. 
On the occasion, District Forest Officer Harbhajan Singh and others were present.