DC finalizes arrangements for smooth nomination process from Jan 25
Only three persons including candidate to be allowed for entering for filing papers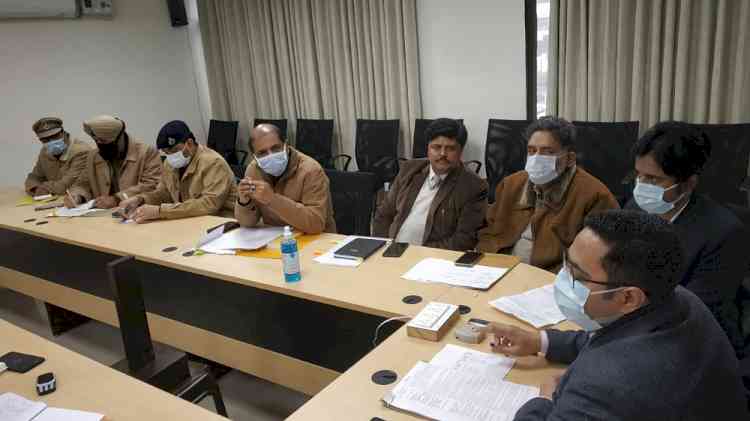 Nawanshahr, January 24, 2022: Deputy Commissioner Vishesh Sarangal on Monday finalized the arrangements to ensure smooth nomination process for assembly polls to be started from January 25.
Accompanied by Senior Superintendent of Police (SSP) Kanwardeep Kaur, the Deputy Commissioner said that as per the stipulated norms laid down by the Election Commission of India (ECI), only three persons including the candidates would be allowed to enter at the RO's room where the nominations for the polls would be filed by them from January 25 to February 1 between 11am to 3 pm.
He said that the candidates would not be allowed to carry mobiles inside the RO's room.
He said that proper videography of the nomination process would be ensured besides public address system, digital clock and other arrangements would be fully readied inside RO's room
to ensure complete transparency.
Sarangal asked them to clearly demarcate periphery of 100 meters by displaying boards, cameras, parking area, barricading, RO's room along  with instructions of ECI.
He said that nominations would not be taken on January 26 and January 30 on the account of holidays.
He said that elaborate arrangements would also be made to ensure that the nomination process organized in a smooth, free and fair manner.
Sarangal said that nominations for the polls would be received by respective three of the SDMs' offices by ROs from 11 am to 3 pm.
He said that proper security personnel including local police, CAPF would be deployed to ensure Model Code of Conduct enforced strictly during nominations.
On the occasion Additional Deputy Commissioners Jasbir Singh, Amit Sareen, Amardeep Singh Bains, SP Manvinderbir Singh, Sub Divisional Magistrates Dr Baljinder Singh Dhillon, Navneet Kaur Bal, Deepak Rohilla and others were present.