DC conducts checking in government offices at district administrative complex
Asks officials to facilitate the peIn order to ensure streamlining the functioning of government offices in district to facilitate the people, Deputy Commissioner (DC) Navjot Pal Singh Randhawa on Wednesday conducted checking in various offices at district administrative complex. ople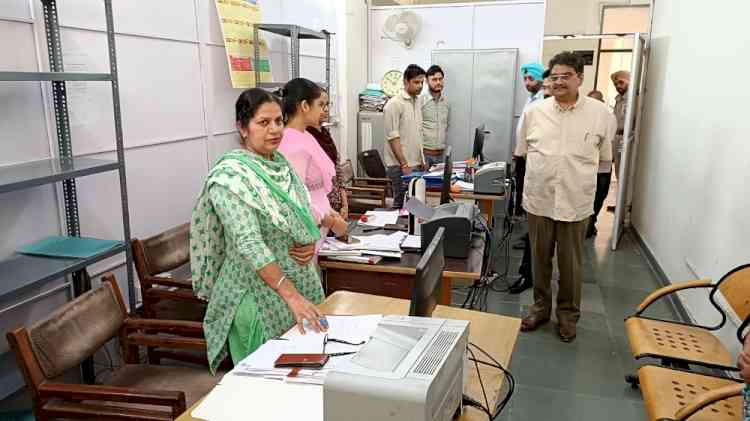 Nawanshahr, May 18, 2022: In order to ensure streamlining the functioning of government offices in district to facilitate the people, Deputy Commissioner (DC) Navjot Pal Singh Randhawa on Wednesday conducted checking in various offices at district administrative complex.
Accompanied by Assistant Commissioner Deepankar Garg, Deputy Commissioner asked all the officials to ensure that people do not face any sort of difficulty in getting their routine works done.
The Deputy Commissioner directed the officials to maintain the registers in a proper manner. He checked the record registers in the offices and asked the officers to ensure that people are facilitated at any cost. He asked them to ensure proper transparency and accountability in the system. Later, the Deputy Commissioner interacted with the employees and asked them about any sort of problem faced by them.
NPS Randhawa said that the district administration is duty-bound to serve the people effectively so that they do not face any sort of inconvenience. He said that this inspection would be carried out in the coming days too and said that this would help to supervise the working of the various departments and find out the shortcomings if any.
He also made it clear that any sort of callousness in serving the people would not be tolerated and action would be taken against erring officials.