DC and CP review procurement operations in Sahnewal and Gill Road grain markets 
Direct SDMs and ACPs to visit grain markets daily to ensure smooth and hassle-free procurement by maintaining masking and social distancing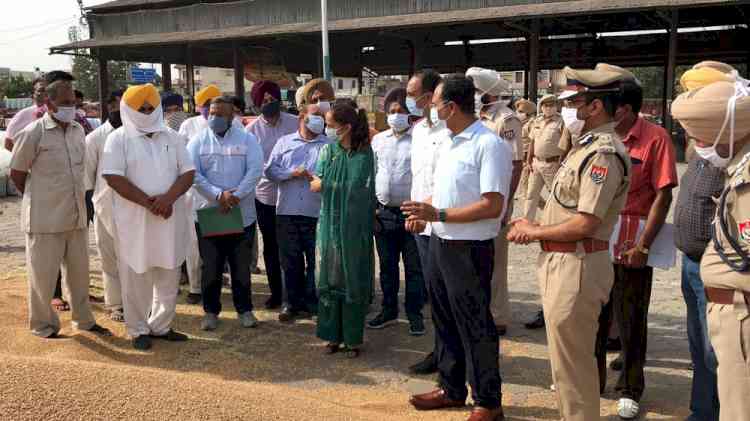 Ludhiana: Deputy Commissioner Varinder Kumar Sharma and Commissioner of Police Rakesh Agrawal on Wednesday directed the Sub-Divisional Magistrates (SDMs) and Assistant Commissioners of Police (ACPs) along with Food Supply and Mandi officials to visit the grain markets in their jurisdictions daily to ensure the smooth and hassle-free wheat procurement besides strictly compliance of the physical distancing, masking and other protocols. 
During the visits in Sahnewal and Gill Road Grain Markets, Sharma and Agrawal showed the satisfaction on the procurement operations and asked the officers to make sure that every single grain of wheat was procured and lifted without any sort of delay and at the same time, the social distancing, masking must be maintained in the grain markets to prevent Covid-19 pandemic.
They  said that the officers must ensure the facilities of hand washing, soaps, masks  to all the farmers, labourers and others keeping in view of the prevailing circumstances.
They told the officers to wheat produce must enter in the markets after properly dried by the farmers. They told that all out efforts must also be made for proper lifting of the grains and directed them to ensure farmers do not face any kind of the problems in the markets. 
They said that the state government has already evolved an effective mechanism for lifting grains within 72 hours of the procurement. Meanwhile, they also stated arrangements have also been made to ensure that the payment of grains was also made to the farmers within 48 hours of the purchase.
They told that all these steps have ensured smooth, hassle free and prompt procurement and lifting of grains besides timely payment to the farmers.
During interaction with the farmers, they asked them about the entire procurement operation and also inquired about any issue.
 
WATCH THIS NEWS REPORT ON OUR YOUTUBE CHANNEL
https://www.youtube.com/watch?v=A1Vb4pouvRw