DAVIET student bags scholarship of 2 lac from google
Shriya, a first year Computer Science and Engineering student of DAVIET got selected for Women Techmakers Engineering Fellows Program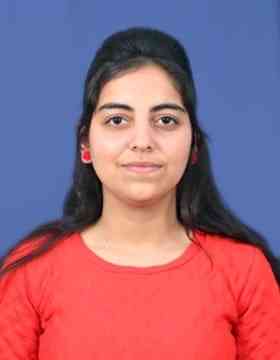 Shriya, a first year Computer Science and Engineering student of DAVIET, jalandhar.
Jalandhar: Shriya, a first year Computer Science and Engineering student of DAVIET got selected for Women Techmakers Engineering Fellows Program. The program was designed by Talentsprint and is supported by Google. The program aims to encourage the upcoming women technocrats of the nation to contribute constructively to the computer science and IT industry to propel the nation forward.  According to report by the Bureau of Labour Statistics, women engineers constitute only 26 % of the total workforce world over. The program is directed towards removing this gender imbalance so that upcoming talented women engineers should be provided a level playing field like their male counterparts.  
Shriya was selected after four rigorous rounds in which she competed with 15000 upcoming female engineers of first year B.Tech program. Sharing the details, an ecstatic Shriya stated that the first round was that of aptitude assessment, while the second was based on English communications skills assessment. The third round was Python programming and in the fourth round there was the interview. She also shared the fact that the program has a goal of training 600 female students in three years and in the first batch 100 students are already undergoing training. She also shared that the program will be a combination of boot camps, live online classes, ongoing mentorship, certification and team-based projects to enhance problem-solving and computational thinking.
Dr Kanchan L Singh, Head, Department of Applied Sciences appreciated the hard work put in by Shriya to achieve the goal.  She stated that from day one Shriya was always eager to learn new things in the class and always took initiative to take part in co-curricular activities. Dr Kanchan shared that Shriya's success was an epitome of the fact that department encourages and moulds every student to realise his/ her dreams. 
Dr Manoj Kumar, Principal DAVIET congratulated Shriya on getting selected amongst top 100 women engineers of India and said that it will open new vistas of opportunities for Shriya. He shared that during this 2 years program Shriya will get a chance to build her global competitive abilities, as the program provides an international exposure along with 100 % fee sponsorship and Rs 2,000,00 Cash scholarship. He also highlighted the fact that the students selected for Women Techmakers Engineering Fellows Program had a markedly better chance of making it big in the corporate sector as the participating students  received 104 internships and full time offers from 54 companies, at compensation levels 86% above the market average. He showed his confidence that Shriya will make many more achievements in life and will make her alma mater proud.