DAVIET espouses cause to fight against covid-19 with creative outlook and praying heart
Through the E-Fest 2020, the institution aims to give the message, to use Dr. Robert Schuller's words that tough times never last, but tough people do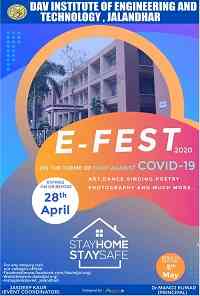 Jalandhar: DAV College of Engineering and Technology, Jalandhar under the vibrantly sagacious guidance of the Principal Dr. Manoj Kumar, marked an ingenuity to innovate the young talented mind by organizing Online E- Fest 2020. The E-Fest intends to constructively unfurl the young bubbling talent which is wrapped in creative charm and artistic zeal. As we know "The mind can make a heaven of hell, and a hell of heaven", and it is the time to utilize the plethora of talent charismatically, in order to blossom the mirthful zeal and minimize the melancholy prevailing in the current scenario.
Speaking about the E-Fest, Dr Manoj Kumar stated that the aim of organizing this E -Fest 2020, is to make the productive and constructive use of the time during the COVID-19 pandemic, when majority of the people are abiding by the call of complete lockdown to avert the spread of the virus.  He shared that inspite of tough times, we must realise our true potential by polishing our latent skills and remaining positive. He stated that it is online competitions like E-Fest 2020 which will give hope to people to keep on pursuing their interests even during this tough time. He emphasized the fact that human will has the strength to move mountains and it is by the combined effort of all the stakeholders of society that our nation can survive the Covid-19 pandemic.  Here he urged all his students to be the torchbearers for others in the society and follow all the guidelines issued by the government from time to time. He gave the message that DAVIETians should practice social distancing and complete lockdown so as to contribute their bit in the fight against the outbreak of the deadly virus. 
Ms Jasdeep Kaur, the cultural officer highlighted the fact that E- FEST 2020 gives an opportunity to the budding technocrats, professionals and managers to exhibit different facets of their personality by exhibiting their talents in competitions as diverse as  Bhangra, Giddha, Western Dance, Singing,  Elocution, Poetry, Indoor photography, Short Video, Sketching, Digital Poster making, Turban Tying and many more. She shared that the complete details of the event are available on the facebook page  (facebook.com/davietjal.org)  of the institution along with the instagram page (Daviet_jalandhar). She further highlighted the fact that the participants can send their entries online on or before 28th April, 2020 and results will be declared on 5th May, 2020 at the official website of DAVIET (davietjal.org) and also on the instagram pages of all the respective clubs. She also shared that the winners will be awarded with E-Certificates for their commendable efforts. The participants can participate in all the events making use of items available at home itself because we do know how important is to stay at home.
Through the E-Fest 2020, the institution aims to give the message, to use Dr. Robert Schuller's words that tough times never last, but tough people do.