David Hockney's Guest House Garden will be offered at auction for the first time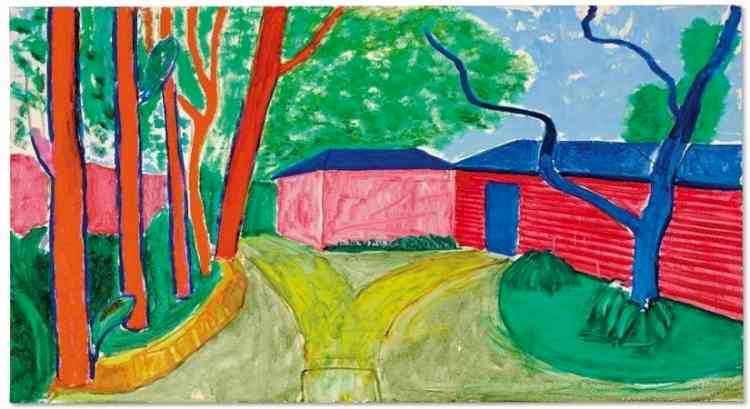 David Hockney's Guest House Garden will be offered at auction for the first time(Photo:IANSLIFE)
By IANSlife Features
New Delhi, Sep 19 (IANSlife) David Hockney's Guest House Garden (2000, estimate: Rs 5,000,000-7,000,000) will highlight Christie's 20th/21st Century: Evening Sale, Including Thinking Italian, London on October 15, 2021. The painting originates from L'art a fleur de peau Collection, with more than 100 works being offered in Paris in a dedicated sale on October 13, 2021.
Guest House Garden is a deeply personal vision dating from a pivotal moment in David Hockney's practice. The work was acquired from the artist's solo exhibition at Galerie Lelong, Paris, in 2001 and has been unseen in public since then. Guest House Garden belongs to a small group of paintings and drawings depicting the artist's garden, which he began during the summer of 2000 in London while exhibiting at the National Gallery, and continued back in Los Angeles, where the garden depicted is located. Though bathed in Californian luminosity, these works marked the beginning of a significant shift in Hockney's practice, heralding many of the qualities of the Yorkshire landscapes that would come to dominate his oeuvre from 2004 onwards. Highlights from the L'art a fleur de peau Collection, including this, will be unveiled at Christie's in Paris from September 8 to 12, 2021.
Katharine Arnold, Co-Head of Post-War and Contemporary Art, Christie's, Europe: "David Hockney's sumptuous Guest House Garden is drenched in luminous light and represents a pivotal moment in the artist's oeuvre where his sense of home, be it California or Yorkshire, began to dominate his artistic vision. The work was created at a moment when Hockney's international career had reached new heights with seminal exhibitions in Paris marking a significant shift for him on the global stage and yet his life was touched by tragedy in the death of his mother. The painting has not been seen since it was first exhibited in 2001 and we are thrilled to offer Guest House Garden in our global 20th/21st Century: Evening Sale Including Thinking Italian, London during Frieze Week this year. We are sure that the exceptional quality of the painting will resonate with international collectors as we welcome them back to London."
In the early 2000s, David Hockney began to look more closely than ever before at the various places he had come to call home, his eye sharpened by rigorous visual research for his landmark 2001 thesis Secret Knowledge. Here, Hockney's vivid palette and complex geometric drama infused his garden with an almost anthropomorphic quality. It is a vision of warm familiarity, seen through fresh inquisitive eyes. The turn of the millennium was also a time of great professional triumph for Hockney. In 1999, he had mounted three major solo exhibitions in Paris, including his landmark retrospective at the Centre Georges Pompidou and a seminal show at the Musee Picasso: the first by a living artist. Sadly, it was also at this time that the artist's mother passed away at the family home in Yorkshire. Her ill health over the previous few years had drawn Hockney increasingly back to his homeland, sparking a longing for the landscapes of his childhood.
His sojourn in the UK during the summer of 2000 brought the theme of home to the forefront of his mind once more: views of his gardens in London and Los Angeles, some created from memory, mingled with scenes from Yorkshire, each infusing and inflecting one another. The winding coastal highways that had dominated his California landscapes became garden paths and country roads; the light and colour of the West Coast transplanted itself onto British soil. This blurring of boundaries would ultimately lead Hockney back home, seemingly identifying the same drama and luminosity in his native landscape that he had previously observed in the canyons, sunsets and sweeping vistas of California. Guest House Garden eloquently captures Hockney's arrival at this crossroad.
In the intimacy of a domestic garden, the artist finds a veritable theatre of colour, form and texture. Hockney's palette is one of near-Fauvist saturation, recalling the spirit of Henri Matisse, Andre Derain that the artist had formerly channelled in his views of Nichol's Canyon, Mulholland Drive and the sea at Malibu. The work's tall bank of trees and fresh, clear skies, meanwhile, seems to prefigure Hockney's depictions of the Yorkshire Wolds, where strains of pale blue would flicker through dense, vertical woodlands. During the 1990s Hockney's focus on floral still-life had led him to renew his engagement with the work of Vincent van Gogh, and something of Van Gogh's vivid, otherworldly light is palpable here. The trees, in particular, seem to emit an almost human quality redolent of Van Gogh's own depictions of forests and groves. These combined influences would ultimately lead Hockney to a new home in France, where his garden in rural Normandy became the subject of a new series showcased at the Royal Academy of Arts, London, this summer.
Christie's will present a sale dedicated to L'art a fleur de peau Collection in Paris on October 13. This exceptional grouping reflects a woman's passion for post-war and contemporary art, representing some of the greatest international figures of the 20th century. Further to Guest House Garden, seminal pieces by Fernando Botero, Chu Teh-Chun, Friedensreich Hundertwasser, Barbara Kruger, Louise Nevelson and Manolo Valdes will also be offered. L'art a fleur de peau Collection also reflects a strong appetite for French artists, including Philippe Cognee, Olivier Debre, Gerard Garouste, Gilles Aillaud, Richard Texier and Maurice Esteve.
Paul Nyzam, Head of L'art a fleur de peau Collection Sale: "French collections of this quality are rare. We are therefore particularly honoured to be able to showcase this ensemble at Christie's this autumn. Marked by a passion for artworks from the French scene during the second half of the 20th century as well as an openness to international artists, the collector demonstrated loyalty to some of the most important dealers in Paris. The collection, therefore, draws a portrait of the woman who created it. A woman who is both impulsive and whimsical, driven by an insatiable curiosity for contemporary creation and a confident taste for bold artworks. A woman who has art on her mind."
(IANSlife Features can be contacted at [email protected])