DAV College Punjabi Sahitya Sabha celebrates international mother language day 
Mother tongue establishes real existence of the person, says Dr S K Arora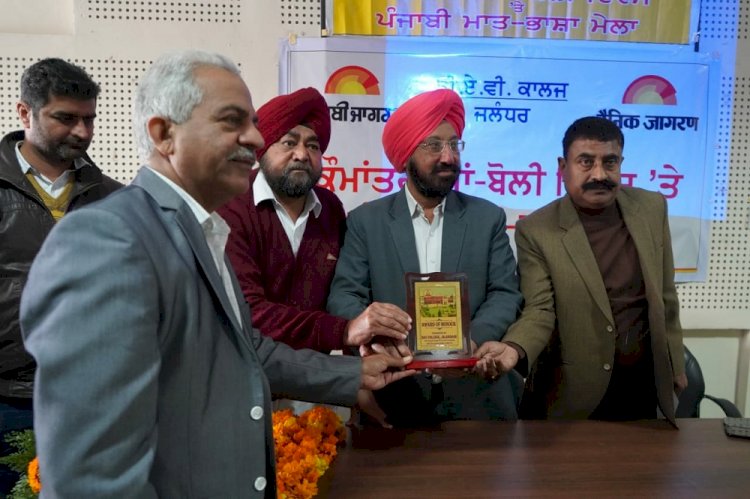 Jalandhar: Kaumantari (International) Mother Language Day was celebrated by Punjabi Sahitya Sabha DAV College Jalandhar. In which Punjabi poetry-pronunciation competition was also organized. Students participated with full enthusiasm in this competition.
Shri Varinder Walia Ji from Punjabi Jagran attended the ceremony as the Chief Guest. Principal Dr. S. K. Arora and Punjabi Department President Dr. Lakhbir Singh and Punjabi Sahitya Sabha Chairman Dr. Anurag Sharma made a wreath offering.
On this occasion, the principal of the college, Dr. S. K. Arora addressed the students and explained the importance of mother tongue. He said that anything done by a person's conscience is in his mother tongue. The chronicity of any community depends on its adoption, propagation and effective use of its mother tongue. Basically the existence of a person establishes the mother tongue. He said that renouncing his mother tongue means separation from his roots, history, his antiquity, literature and the great legacy handled by his ancestors.
Chief guest Mr. Varinder Walia said that it is the religion of every human to respect their mother tongue. Language is particularly used carefully in journalism. Punjabi journalism in Punjab will be very helpful in connecting our people with Punjabi. Therefore they also want to motivate students to speak and write Punjabi, so that Punjabi journalism and Punjabi language get special place.
Punjabi Department Chairman Prof. Lakhbir Singh said , that today's technology and the increasing influence of English has deeply hurt the mother tongue. According to the report of UNESCO, 3500 have become extinct in 7000 languages of the world and many languages are dying every month. There are 196 languages in India, Taptakhand, which describes the delicate condition of the local language. Our mother tongue Punjabi was once spoken from Sindh to Delhi and from Kashmir to Rajasthan, but now it has become an object of mercy in its state Punjab itself. We should emphasize on the development of mother tongue. Mother language should be an important part of education, it is very important and it should be given due attention. We have to understand the importance of the mother tongue, only then can the full development of the personality of an infant.
While giving information about mother tongue, Dr. Anurag Sharma, President of Punjabi Sahitya Sabha said, today there fear of ending of Punjabi language is not much because around 14 crore people speak Punjabi all over the world. But he warned that if people do not teach their children the mother tongue, there is a risk of it being misused. So we all should respect our mother tongue.
The main objective of the poetry-pronunciation competition was to recognize the creativity and poetic talent of emerging young poets and singers. In which this objective was fully successful. Students performed poems written by the original and other poets. In this competition, Lovepreet Singh finished first, Sharandeep Singh second and Akash Wadhwa secured third place.
The students who won the competition were awarded.
The role of the judges in this competition was Dr. Davinder Mand and Prof. Kiranjeet Kaur. While the stage operation was done by Dr. Gurjit Kaur and Dr. Sahib Singh.
On this occasion, Dr. Ashok Khurana from Punjabi Department, Dr. Kamalpreet, Dr. Davinder Mand, Prof. Balwinder Nandha, Prof. Sukhdev Randhawa, Prof. SK Midda, Prof. Satpal Singh, Prof. Rajan Sharma, Prof. Manjeet Singh, Prof. Kiranjit Kaur and students were present.