Dabang fame Bhaiya ji smiles in Chandigarh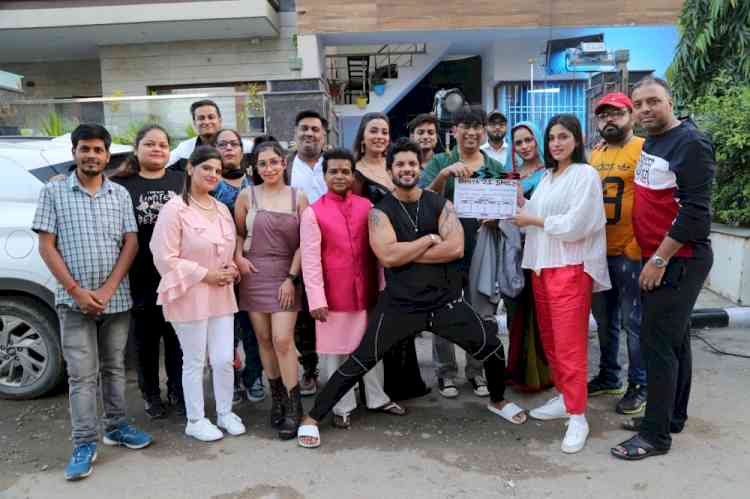 Chandigarh, October 20, 2021: Bhaiya ji smile means a comedy film full of message. There is a deep message in the web series  to save the society from HIV. It is being shot in Tri City. The film is being made for the OTT platform.
Various Bollywood actors are in Chandigarh for the shooting of the web series  Bhaiya Ji Smile.
Well-known choreographer / actor / dancer Sushant Pujari said  that for the first time doing comedy role, maybe there is a comedian hidden inside everyone, if you can bring laughter on someone's face it provides contentment . Sushant, who came into the limelight due to his 50 million views viral video with Lopamudra, will also be seen in Kannada films and web series under same banner  in the times to come.
The producer of the film is Jiba Khan and writer Alok Upadhyay. Writer Alok has authored films like Jai Ho, Maine Pyaar Kyun Kiya, Partner, Dabangg 3, Radhe. The director of the film is Mayank Sharma. The executive producer is Sanjali Suri. The creative director of the film is Amit Asim. Bollywood's famous actor and choreographer Sushant Pujari is in the role of lead actor. Sushant Pujari is a famous Bollywood choreographer and actor. He has done many projects like ABCD, Second Lead in ABCD 2, Flying Jatt, Street Dancer. He has been doing International The Musical Merchant of Bollywood for a long time. He also did a Kannada film as the second lead. Currently he is working on a Hindi film "The Arjun".
He worked with famous choreographers of the industry like Remo, Farha Khan, Prabhudheva. His name is also nominated for Best Actor for the movie "Ek Tili". His famous Hindi song Qamar Hila has crossed 5 crores on YouTube.
Bollywood actor Shyam Lal famous for the character of "Bhaiyya ji smile" from Dabangg, Dabangg 2, Dabangg 3 is also playing a lead role in the film. He has also worked in projects like Remo de Soza Faltu, Rangeela Raha, Nikamma, Rocky and Rani.
Artist Kanchan Awasthi is a famous Bollywood actress.
Other actress Monica has worked in films like Mausam, short film The Last Story, Punjabi film Teri Meri Gal Ban Gayi, Haryanvi film Saawari.. Mumbai actress Dua Rajput (Roopam) is making her debut with this film and is playing a strong character. The concept of the story is comedy drama and youth centric with a great message given in the society. is being made for the OTT platform.