Customs Commissionerate Ludhiana organised T-20 Cricket 
Match played between Customs-XI Ludhiana and Custodians-XI Ludhiana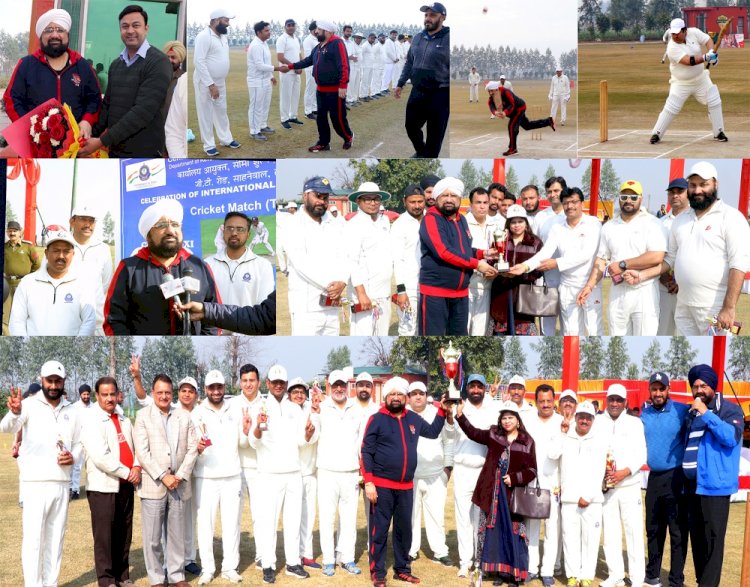 Photographs related to T-20 Cricket match organised by Customs Commissionerate Ludhiana on Saturday. 
Ludhiana: International Customs Day (ICD) is celebrated worldwide, every year on 26th of January, to commemorate the inaugural session of Customs Co-operation Council (now known as WCO) held in Brussels on 26th January, 1953 with the participation of representatives of 17 member countries. This year the WCO has dedicated ICD to the contribution of Customs towards a sustainable future where social, economic, health and environmental needs are at the heart of our actions with the Slogan "Customs fostering Sustainability for people, Prosperity and the Planet."
Central Board of Indirect Taxes and Customs (CBIC) has decided to celebrate ICD on 27th January 2020. On this occasion, Customs Commissionerate, Ludhiana organised a T-20 Cricket Match, between the teams of Customs-XI Ludhiana and Custodians-XI Ludhiana (team  consisting of all Dry Ports of Ludhiana) at Hara School of Cricket, Village Badowal, Ferozepur Road, Ludhiana on Saturday, 25th January 2020. This is a second Tournament in this series on this Day, earlier match played in 2018 between the same teams.
The match was enjoyed by the officers/ staff of Customs Commissionerate Ludhiana, Custodians, guests from all the dry ports situated at Ludhiana, representatives from the trade and Customs Brokers, Rajiv Kumar Sharma, GM, GRFL Sahnewal, Vineet Mathur, GM CONCOR, Ravinder Mohan Rana, ICD Adani Logistics-Kannech, R.K. Bhasin, GM, ICD Pristine-Chawapayal remained present during the event.
A. S. Ranga, Commissioner of Customs, Ludhiana, congratulated the winning team and also thanked everyone present on this occasion. He further said that organizing of such events helps in developing good relations between the trade and the department. Since a healthy soul remains in a healthy body only, such kind of events keep everyone in good shape of mind and body. In the present times of stressful environment, such activities give relaxation and enjoyment to everyone.
The team of Customs Ludhiana won the toss and opted to bat first and made 141 runs in 20 overs. From the team of Customs Ludhiana the highest scorer was Sh. Charanjit Singh and the best bowling was done by Sh Madan Lal by taking 5 wickets and giving only 7 runs. Customs XI defeated Custodians XI by 54 runs.
A S Ranga, Commissioner presided over the Prize distribution ceremony. Winner's Trophy was given to Customs XI Team and runner up Trophy to Custodians XI Team. Man of Match award was given to Madan Lal. Madan Lal was also declared the Best Bowler. Talwinder Singh (Custodians XI) was declared the best batsman. At the end of the event A S Ranga thanked all who participated in the event.