CT Varsity students attend webinar on developing entrepreneurial mindset
The speaker motivated the students about on how to be a successful entrepreneur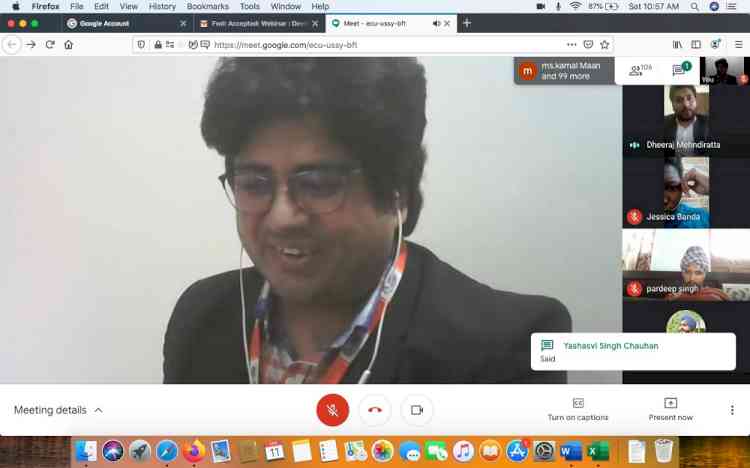 A screenshot of webinar being conduced by CT Varsity.
Ludhiana: More than 100 students of CT University attended a webinar on 'Developing an Entrepreneurial Mindset' amongst the students. It was conducted by Dheeraj Mehndiratta, Regional Director, TAN Advisors, Ludhiana.
The speaker motivated the students about on how to be a successful entrepreneur and survive in this ongoing cut throat competition of the market. He touched upon the issues of raising funds from investors and developing an effective business plan in accordance with the objectives of the venture. Further, he also guided the students on facing the challenges and being future ready in this sector. 
He added, "Are you looking for a best time to be an entrepreneur or to start a business? Major firms started and grew at a time when property was at low rates when we never thought of buying something online. I believe that time is now or never. Just go, find a problem, which I believe are so many and everywhere, learn necessary skills, build platform and let people adapt it."
Ati Priye, Deputy Director-Entrepreneurship Development Cell said that the students were also briefed about the various schemes and initiatives implemented by the government of India which could be helpful to them in establishing their entrepreneurial business. The session was enthusiastically attended by students and they gave a great feedback. This lockdown is a golden period to be considered as blessing in disguise. 
Dr Harsh Sadawarti, Vice Chancellor CTU highly appreciated such webinars which are encouraging the students at their homes only in a relaxed atmosphere.