CT Varsity receives honour for outstanding work in MOOCs
CTU professor receives preeminent researcher award 2019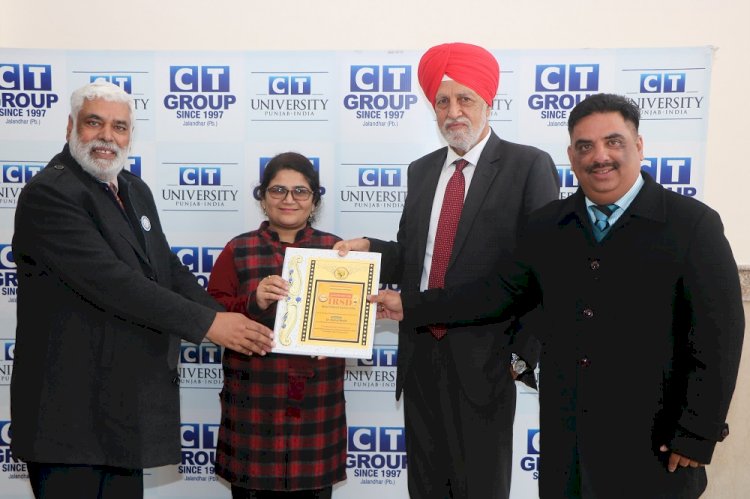 CT University Chancellor Charanjit S Channi, Vice Chancellor Dr Harsh Sadawarti while honoring Dr. Kamal Malik on achieving Preeminent Researcher Award 2019.
Ludhiana:: CT University (CTU), Ludhiana is awarded with a special recognition among all the Universities and Colleges of Punjab and Haryana for its outstanding work in Massive Open Online Courses (MOOCs).  
Dr Kamal Malik, Associate Professor, Deputy Director of MOOC Cell in University, represented CTU at the 4th International Convention on 'Interdisciplinary Research for Sustainable Development', an initiative by Green Thinkerz in Association with IIT Bombay Spoken Tutorial, I2OR , Sustainable COSMOS , FOSS Community which was held at Confederation of Indian Industry (CII) Chandigarh, in association with the Centre for Smart Modern Construction, Western Sydney University, Australia. Dr Malik also received "Preeminent Researcher Award 2019" by Green Thinkerz Society at CII.
For her achievement, Dr Malik said, "Such honors really motivate people to work harder by bringing more innovations in research. I am feeling overwhelmed and prepared for my next goals to achieve in this area along with the support of team in the University."
Congratulating the team for hard work in MOOCs, Chancellor Charanjit S Channi said, "MOOCS are turning higher education into a public good, by allowing anyone to enrol in the courses, being a faculty or student and here at CTU, we are keen to promote trending aspects for seeking education."