CT Varsity ranked amongst top 50 in Atal Ranking of Institutions on Innovation Achievements 
ARIIA is a path-breaking policy initiative started in the year 2019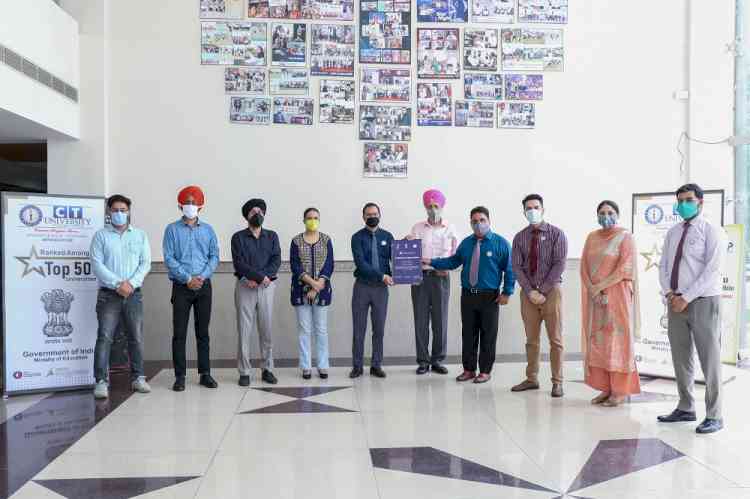 CT University Chancellor Charanjit S Channi, VC Dr. Harsh Sadawarti, MD Manbir Singh and others along with certificate of ARIIA rank.
Ludhiana: CT University has been categorised as 'Band B' institution; ranked amongst top 50, in category of 'University and deemed to be University (Private-self-financed) in Atal Ranking of Institutions on Innovation Achievements (ARIIA) for the year 2020. The Hon'ble Vice President of India, M. Venkaiah Naidu remained as the Chief Guest and the Hon'ble Minister of Human Resource Development Ramesh Pokhriyal 'Nishank' and the Hon'ble Minister of State (MoS) of Human Resource Development, Sanjay Dhotre, Govt. of India, were the Guests of Honour for the live streaming event.

Atal Ranking of Institutions on Innovation Achievements (ARIIA) is a path-breaking policy initiative started in the year 2019 by the Ministry of Human Resource Development (MHRD), Govt. of India (now Ministry of Education) and implemented through AICTE and MHRD's Innovation Cell. The ARIIA ranking is to systematically rank all major higher educational institutions and universities in India based on the indicators related to promotion and support of "Innovation and Entrepreneurship Development" amongst students and faculties.

CT University has been actively contributing towards the Innovation and Entrepreneurship development within the students. CTU has well established and functioning PME (Prioritization, Monitoring and Evaluation) Cell, 24*7 working Robotics and Automation Lab along with Research and Innovation Centre for excellence (RICE).

Charanjit S Channi, Chancellor CTU said, "This has been possible only because of team work. CTU team is always brainstorming innovative ideas that inculcate the potentials of students and faculty both to bring something new for the society on whole."

Dr Harsh Sadawarti, Vice Chancellor, CT University congratulated all the team members and students for their contributions in research and Innovation and further said that CTU has already filed patents and are also working on various other projects. The team is also focusing on 'Technology Transfer' with the constructive ideas contributed by the team that has lead us to this and being just 3 years old university, we have marked to be amongst top 50.