CT Varsity and LinkedIn Local Chapter holds state level webinar
Experts discuss tips to prepare for re-entry and reimagining the workplace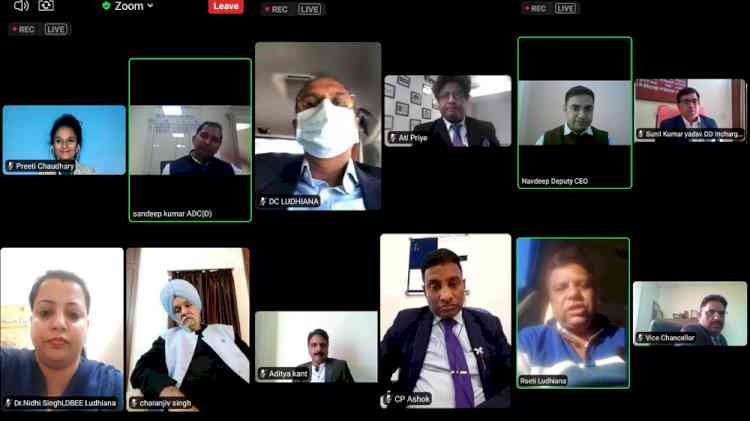 Ludhiana: CT University hosts a state level webinar on 'COVID19: Preparing for Re-entry and Reimagining the Workplace', organized by LinkedIn Local Ludhiana and District Bureau of Employment and Enterprises, Government of Punjab. The session was aimed to help the organizations, employees and solopreneurs gain a competitive advantage in the post-COVID-19 world, adopting a new distributed workforce ecosystem and re-imagining the workplace of tomorrow.
The chief guest of the webinar was Deputy Commissioner, Ludhiana, Varinder K. Sharma, IAS. The esteemed guest of honors remained Sandeep Kumar, IAS, ADC (Development), Ludhiana and Preeti Chaudhary, Founder, LinkedIn Local India.
The following eminent personalities from different sectors of the industries participated as the keynote speakers were Upkar Singh Ahuja, President, CICU, Ludhiana; Amit Juneja, Chairman- CII, Ludhiana; C.P. Ashok AGM-CSR, Rockman Industries Ltd.; Sunil Kumar Yadav, Deputy Director (In charge) ESIC, SRO Ludhiana and Nidhi Singhi Career Counselor DBEE-Govt. of Punjab etc.
The speakers touched upon the notion that while the social distancing mandated by the COVID-19 pandemic is likely to be in effect for the foreseeable future, now's the time for organizations to think about re-entry into what will be a fundamentally different workplace model.
Navdeep Singh, Dy. CEO, DBEE-Punjab Government said, "The organizations have never been in a more essential position. They must augment their traditional focus on people with equal attention to the technology necessary to accelerate reentry and enable long-term success—the ability of the company, not just to survive, but to thrive in the different normal."
Dr Harsh Sadawarti, Vice Chancellor, CTU said, "HR should first define what types of work and roles are needed in the office location—versus which can continue to be performed virtually. Prior to the pandemic, we may have had set ideas on which roles were "essential" to operate in an office. Now is the time to re-examine those perspectives and make recommendations that will enable agility and flexibility for the different normal we are returning to. Using data collected before or during the recent work-from-home period on productivity and engagement, decide who really needs to work in an office location and who doesn't."