CT University students develop accident sensing module
Module to save lives by providing quick first aid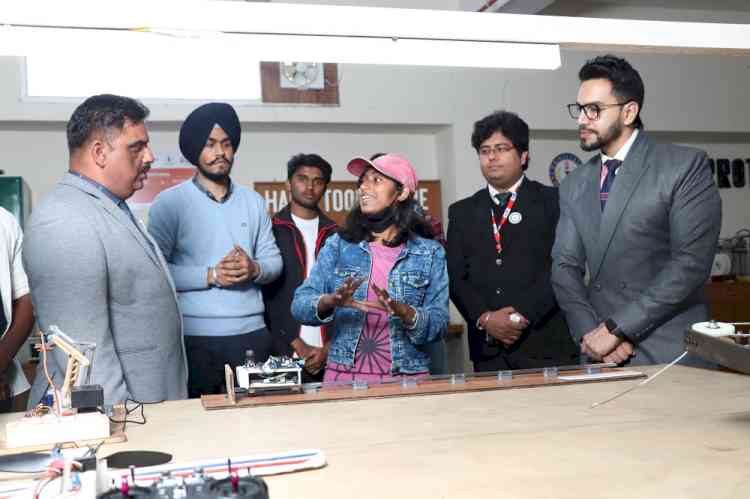 CT University MD Manbir Singh, Vice Chancellor Dr Harsh Sadawarti along with research team who developed a sensing module.
Ludhiana: CT University's 'Research and Innovation Centre for Excellence' students namely Batina Jennifer (Robotics), Kiran Reddy (AI) and Gurpreet Kaur (ME) after getting inspired from brain child of Ati Priye, CRC Manager designed and developed an accident sensing module for four wheel vehicle.
This accident sensing module can be mounted on the dashboard of vehicle and will be connected to the smart phone of driver via Bluetooth through an android app. If any impactful collision occurs, the sensor will generate a signal and an emergency message along with location will be sent to the registered emergency contacts, nearby hospitals, police stations, toll plazas and nearby vehicles having the same android application. Thus this module can save lives by providing quick first aid or medical assistance to accident victims.
Explaining further, Jaspreet Singh, Research and Development Engineer, said, "It is equipped with an unique AVR processor based sensing system which senses the fatal accident impact only and do not sense road jerks and sudden braking or acceleration impact. This sensing technology can sense collision from any direction of vehicle. The team has also filled technology patent to secure this invention. The overall project is named URAA which stands for You Are at Aid. Team is planning the start-up the production of this device at large scale. The first prototype is already developed and tested. This prototype is equipped with an onboard GPS and SIM device which itself sends the message and location."
Dr Harsh Sadawarti, Vice Chancellor CTU appreciated the efforts of the team and also said that the team is also working upon development of the same device to a compact one of the size of a computer mouse with onboard rechargeable battery. The cost of final commercializable product will be below Rs 2000 along with free android application. So every person can afford it and it can help save countless lives. He further congratulated the team.
Manbir Singh, Managing Director, congratulated the team for the successful venture.