CT University organizes webinar on survival strategies for young tourism aspirants
Speakers gave certain take away for students after covid-19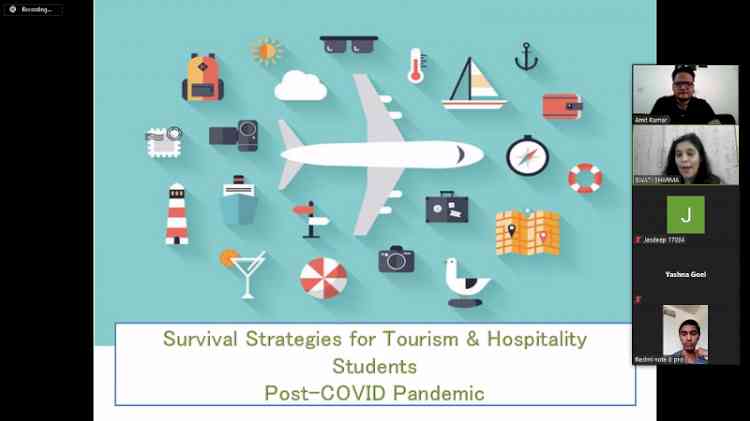 A screenshot of webinar organised by CT University.
Ludhiana: CT University's School of Hotel Management, Airlines and Tourism organized a webinar on 'Survival Strategies for young tourism aspirants post lockdown and global pandemic'. The guest speaker was Dr Swati Sharma, Assistant Professor from Amity University, Noida.
Addressing the students, Dr Swati said, "The time would be that of; when certainty will be uncertain and then we have to plan strategic actions. Travel industry have to demonstrate humanity, resilience, solidarity and leadership at tese extraordinary times. The art you have to learn for future is work for customer satisfaction, grow your networking with social media, create your unique selling point, master the one art for example content writer, speaker, etc." She also encouraged the students to attend various international workshops, attend short courses, and master any international language."
Majorly, the speaker gave certain take away for students after covid-19 which included shift to domestic and regional tourism, digitize your profiles and businesses, collaborate and activate your networks, learn the basic leadership, adapt mix learning of offline and online approaches also appreciate planet and people.
Dr Amit Kumar, Head, School of Hotel Management, Airlines & Tourism thanking the guest said that Dr Sharma added the facts and figures about the industry before and after coronavirus which was very informative for the students. She also gave students the tips to appear in future interviews for travel industry. Also motivated the students to move beyond their comfort zone."
Dr. Harsh Sadarwarti, Vice Chancellor, CTU said that discussing such topics are need of hour for better understanding of the students.