CT UNIVERSITY ORGANIZES AN ONLINE SHORT STORY COMPETITION "MY LOCKDOWN STORY"
THE PARTICIPANTS WERE ASKED TO SHOOT A SHORT VIDEO ON HOW THEIR LOCKDOWN IS PASSING WITH SOME MEANINGFUL MESSAGE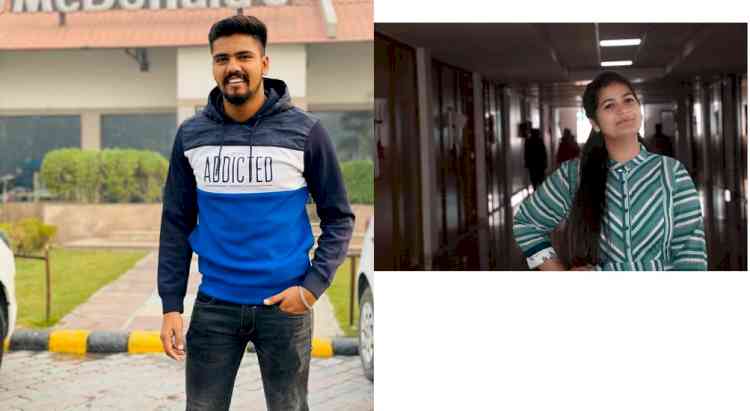 R-L: Rajdeep Hans and Manjeet Mattu.
Ludhiana: CT University, Ludhiana organized an online short story competition titled 'My Lockdown Story' where 11 students from various schools of campus submitted their videos online.
In this competition, the participants were asked to shoot a short video on how their lockdown is passing with some meaningful message.
The first winner of the competition remained Rajdeep Hans, a student of Cyber Security and second was Manjeet Mattu, a student of Cyber Security. Rajdeep presented an emotional message that the world might have stopped but the prayers didn't, relationships didn't etc. She also stated that now it is the time for our own selves. Whereas, Mattu expressed that one must help the house ladies especially mothers who work full year for others without any demands in return.
Also, many students shared their poetry, singing, art and face painted messages through videos.
CT University Vice Chancellor Dr Harsh Sadawarti congratulated the students on their win and urged them to take the benefit of this lockdown to the full extent.