CT University organizes international conference ICTESM 2020 in Singapore
Around 50 speakers present their research papers in ICTESM-2020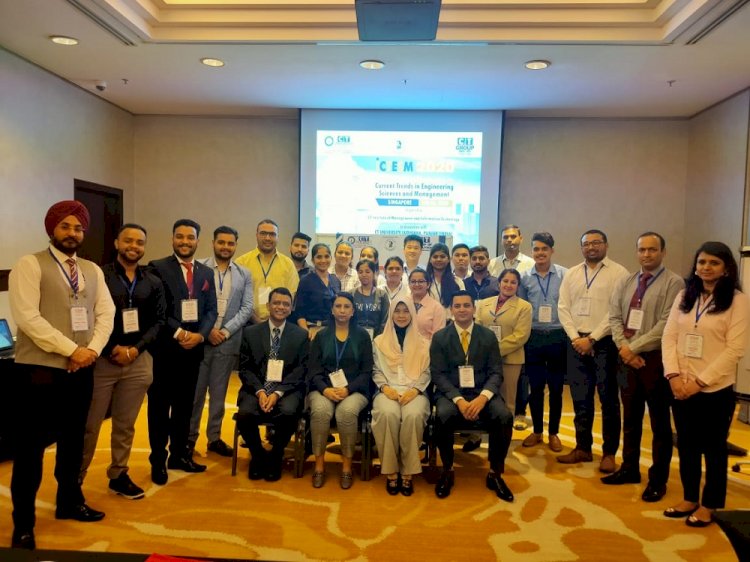 Ludhiana: CT University in association with Lincoln University, USA organized its 3rd International Conference on Current Trends in Engineering, Sciences and Management (ICTESM 2020) in Singapore. The conference brought experts and delegates from different countries to take stock of current knowledge, share information, and build consensus on the actions most needed to move forward in the respective fields.
Prof Dr. Jasdeep Kaur Dhami, Director, CT Group of Institutions, Maqsudan welcomed the keynote speakers, delegates and presenters across the globe and outlined the aim and objectives of the conference. She also shared that they have received around 50 papers from different universities/institutes like Singapore Institute of Technology & University of Glasgow-Singapore, Alqalam University- Nigeria, National University of Singapore-Singapore, University of Ottawa-Canada, Chandigarh University, Lovely Professional University, National Institute of Technology-Jalandhar, and DAVIET etc.
Dr. David De Cremer, Provost Chair and Professor, National University of Singapore, Singapore delivered the keynote address. He presented the insight into the challenges that an automated work environment poses for organizations in the future and how they should be run. He also highlighted the positive and negative impact of artificial intelligence on the future of business scenarios.
Dr. Manoj Gupta, Associate Professor, Department of Mechanical Engineering, National University of Singapore illustrated the emergence of magnesium in engineering and biomedical applications. He highlighted the unique characteristics of magnesium, its potential market and material development. He also focused on sustainability and non-toxicity of magnesium that plays o vital role for a sustainable environmental solution for a greener planet earth.
Professor Dr Faridah Hj Hassan, founder of iHalal Management and Science (iHALALMAS), Universiti Teknologi MARA, Shah Alam, Malaysia also attended the conference and presented a paper.
Dr. Anurag Sharma, Convener ICTESM-2020 delivered the vote of thanks to key note speakers, presenters, delegates, and one and all who contributed for the success of the conference.
Manbir Singh, Managing Director, CT University congratulated the organizing team for taking this conference to the new heights and also said that academicians and post graduate students from various universities and institutions, working professionals, research scholars from industry and research & development organizations across the different countries participated in this one day conference.