CT University introduces credit transfer scheme for aspirants to study abroad
CT University establishes International Relations Office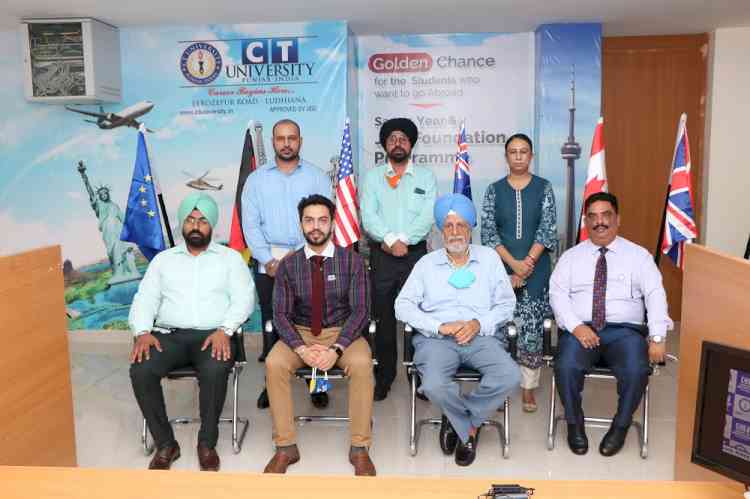 CT University Chancellor Charanjit S Channi, MD Manbir Singh, Vice Chancellor Dr Harsh Sadawarti and others during inauguration of International Relations Office.
Ludhiana: During the time of Covid-19 when the immigration process has taken a halt; CT University, Ludhiana has launched special programmes for aspirants to settle abroad. CT University has inaugurated an International Relations Office (IRO) exclusively for the counselling of students who are planning to study abroad. The programme launch and inauguration of office was done in the presence of Chancellor Charanjit Singh Channi, Vice Chancellor Dr Harsh Sadawarti and Managing Director Manbir Singh. The cell will be instrumental in helping the students to study abroad in countries like Canada, Australia, New Zealand, United Kingdom, etc.
The programmes launched are the Certificate Courses (6-month), Diploma (one year and one-and-a half year) courses. These courses are in demand-driven subjects such as Finance & Accounting; Healthcare Science; Business Administration; Culinary Management and Computer Applications. It also has started special classes for IELTS and French Language.  A student completing 6 months, one year and one and a half year with the CT University will be eligible for Certificate, Diploma and Advanced Diploma, respectively.
Elaborating further, Hitesh Sharma, Director Admissions, narrated that the students qualifying for these high-priority short-term programmes will find these credentials of immense use when they will successfully reach Canada. However, for those candidates who would not be successful in going to Canada, the CT University will like to accommodate them through its lateral entry mechanism for 2-year programme in CT University and 2 year in foreign by Credit Transfer Mode. Such a facility for Canada Aspirants will be greatly beneficial in terms of skill enhancement, credit transfer to Canadian colleges besides leading to enhanced visa prospects.
CTU Chancellor Charanjit S Channi said that this program will enhance the skills of aspirants and would also helpful all the dreamers who wish to study abroad. These certificate courses will groom the overall personality of students as they will be trained by our expert faculty members.