CT University and Bollywood actor Sonu Sood join hands to provide free education to needy students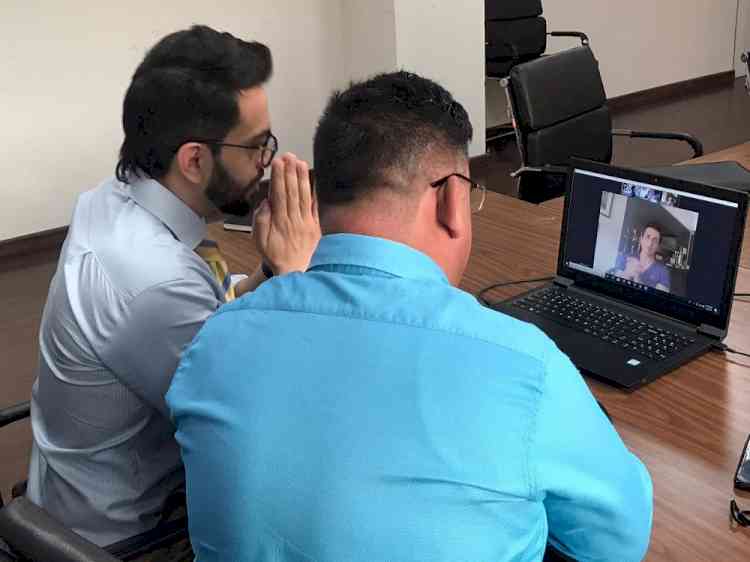 CT University MD Manbir Singh and Vice Chancellor Dr. Harsh Sadawarti during an online interaction with Bollywood actor Sonu Sood.
Introduces Prof Saroj Sood Scholarship to accommodate maximum number of students
 
Ludhiana: It's the moment of honor and pride for CT University as it has joined hands with a popular and an accomplished Indian film actor, model, and above all, a Samaritan Sonu Sood who has generously come forward to support the noble cause of imparting free education to the needy.
Sood, who is a well-known face for his benevolent tasks for human welfare and created a unique niche of credibility for himself owing to his diverse acts of nobility during the prevailing COVID-19 situation. He has proved to be a ray of hope for hundreds of migrant workers by arranging transport facilities for them to get back to their home towns. Following the same grounds, he has entered into the field of education and have mutually agreed to support the cause of providing free-education to the underprivileged, needy and deserving meritorious students from pan India, in association with CT University, Ludhiana.
Under the support that he has announced, Prof Saroj Sood Scholarship is introduced and will be made available to students based on their eligible scores in the qualifying examinations.
On the behalf of CT University, Dr Harsh Sadawarti, Vice Chancellor shared, "University will like to accommodate maximum number of students under this programme to their choicest course out of a wide-ranging list of 80 plus courses of different disciplines. Sonu Sood has set up Prof Saroj Sood Memorial Trust (PSSMT) in memory of his revered mother to aid needy students. It is a non-governmental organization (NGO) committed to the all-round development of underprivileged needy children."
Following this, during an online meeting, Sonu exclaimed, "Get ready for world class university education. Education moulds the generations. Under the activities of PSSMT, the children are supported until they complete their education and placed in a suitable job."
Soon after Sonu Sood tweeted this, there was a flood of thousands of applications and queries for seeking the support for studying at CT University.  It was nothing less than a miracle.
While expressing gratefulness to Sood, CT University Chancellor Charanjit Singh and Managing Director Manbir Singh said that the University will try to accommodate maximum number of students and make all the needed arrangement for all students winning the scholarship.