CT Group organises 'career guru' awards
More than 180 entrepreneurs and tutors honoured at CT Group with 'Career Guru'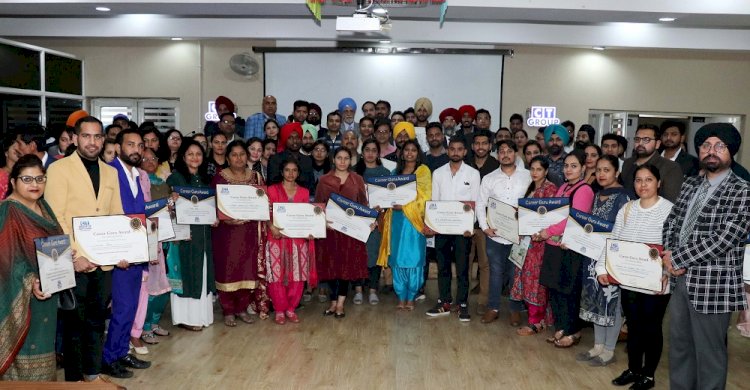 CT Group Chairman Charanjit S Channi, Campus Director Dr GS Kalra, Amandeep Aujla along with tutors during Career Guru Award ceremony.
Jalandhar: CT Group of Institutions, Shahpur campus honoured more than 180 entrepreneurs and tutors from various coaching centres of Jalandhar, Kapurthala, Phagwara, Nakodar etc with 'Career Guru Award' 2020. The tutors who are outstanding in their field; and aim to respond to the individual needs of the pupils; along with the learning in the school and assisting them in reaching their educational goals were honoured by CT Group Chairman Charanjit Singh Channi, Campus Director Dr. GS Kalra, Admissions Head Amandeep Aujla and Dean Academics Dr. Anupamdeep Sharma.
Some of the leading coaching personalities were Amit Kumar from e-Smart classes Kapurthala; Prof. Harpreet Singh from Shri Dashmesh Academy, Hoshiarpur; Radhika Chhabra from Knowledge Building Classes Nakoder; Dr. Ajay Sharma from Concept Building Classes Nakoder; Dr. Prabhjeet Kaur from The Topper's Choice Jalandhar; Sukhdev Singh from Global Academy Jalandhar and PS Bakshi from Expert Tuition Centre Nawanshahr along with various others.
Harpreet Singh from Harpreet Academy Kapurthala said, "We make sure to outreach each student and match his way of learning. Every student has intelligence and his own way of attending to things, we just need to focus on his ways of learning and I am sure each tutor like me is doing the same by giving personal attention and required time to make each student shine and be the best in oneself."
CT Group Chairman Charanjit S Channi while honouring the tutors said, "Teaching with Innovation is the mainstream now and each academician is doing wonders for that. The awardees today are doing great in their region and making a change by outreaching students and making them capable for life ahead. I want to spread a message that now education must be mixed with research for every student of any domain. This combination can bring revolutions."