CSKHPAU celebrates World Environment Day
Shun using non-biodegradable daily use items: VC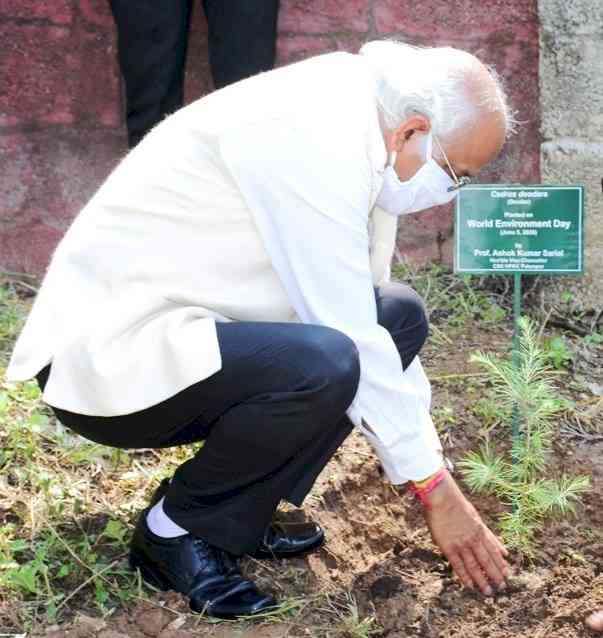 Dharamshala: World Environment Day was celebrated enthusiastically at CSK H.P. Agriculture University CSKHPAU Palampur near Dharamshala on Friday. Prof Ashok Sarial, Vice-Chancellor planted a sapling of Deodar plant in the campus.
While interacting with statutory officers, head of the departments and others, the Vice-Chancellor said, "It is  a matter of pride for all staff members and students that the University is  known as a green, clean and smoke-free campus."
He asked them to spread awareness about the importance of protecting the environment among general masses so that all join hands to preserve rich biodiversity in the picturesque Himachal Pradesh. The Vice-Chancellor also underlined the importance of preserving and propagating flora and fauna, energy and water conservation and exhorted the staff to shun using non-biodegradable daily use items like disposable cup-plates, plastic bags, etc.
Dr Hirday Poul Singh Jt.Director(Info & Public Relations) of the University said that around three dozen saplings of Deodar (Cedrus deodara) were planted alongside the compound wall near gate number three of the University. This large evergreen coniferous tree has a conic crown with level branches and drooping branchlets. Many people worship it as a divine tree. This plant is used in Ayurvedic medicines and its inner wood is aromatic and used to make incense. It is distilled into essential oil which acts as insect repellent.
Pankaj Sharma, Registrar, Gurmeet Singh, Comptroller; Dr. R.K.Agnihotri, Dean PGS; Dr.Mandeep Sharma Dean COVAS; Dr Yash Pal Thakur, Director of Extension Education; Dr.Dinesh Kumar Vatsa, Director of Research; Dr Madhumeet Singh Librarian; Dr Vipin Kumar Gupta SWO; Dr.Yadwinder Dhaliwal Dean CCS; Dr P.N.Sharma Dean COA and COBS, Er Vikas Sood, EO and Heads of Department were also present on the occasion.
All social distancing norms were observed and the ceremony was organized under the environmental sustainability component of the Centre for Advanced Agricultural Science and Technology of National Agricultural Higher Education Project.