Crackdown on people producing lahan continues in Ludhiana
Police Department hires boat and divers to find lahan: Commissioner of Police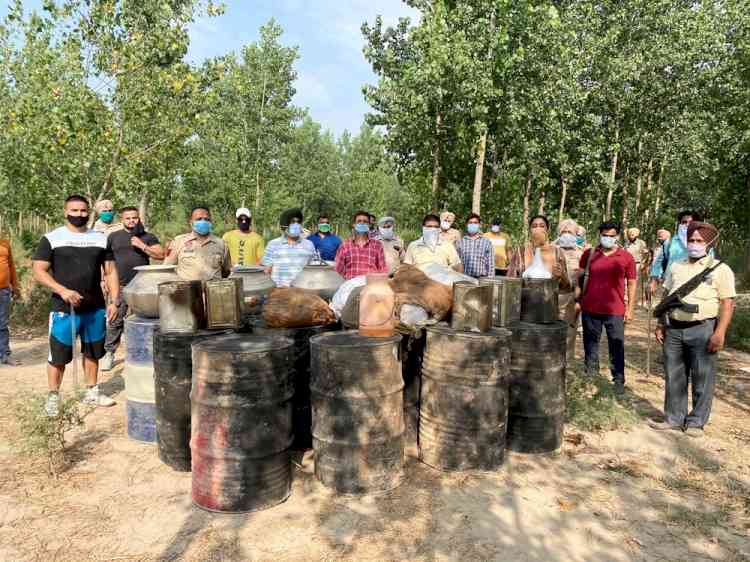 Ludhiana: To curb production of Lahan in the district, Deputy Commissioner Mr Varinder Sharma has directed the officials of Excise and Anti Smuggling Cell of Ludhiana Police to tighten noose against such illegal businesses. He directed that such persons should be arrested and put behind bars without fail. 

    Acting on the orders of Deputy Commissioner Ludhiana, the excise department has destroyed more than 2.5 lakh litres of lahan (illicit liquor before distillation/kacchi daru) by throwing it in Sutlej river at village Bholewal Jadid and Rajjapur of the district. He informed that such raids would continue in the coming days as well and no person would be allowed to prepare illicit liquor.

    He informed that around 2 lakh litres of lahan was confiscated and destroyed on August 1 and an FIR was registered against 8 persons, besides 50,000 litres of lahan was confiscated yesterday and an FIR has been registered against 12 persons.

    Commissioner of Police Mr Rakesh Kumar Agrawal informed that drums, plastic cans and utensils used for making illicit liquor have also been recovered. He said that the area where this illegal business goes on is very difficult to approach but police developed pin point information and strike at the right time. He said that yesterday, an FIR under excise act has been registered in Ladhowal police station Ludhiana.

    The accused persons have been identified as Jogga Singh s/o joginder Singh, Makahn Singh s/o dalip Singh, Jagmeet singh s/o joginder, Gurdeep Singh s/o pathana Singh, all residents of village Rajjapur, Palla chaki wala, Ajit Singh s/o Buta Singh, Raj Singh @ kalu @kali s/o Gulzar Singh, Satnam Singh s/o mahinder Singh, Babu s/o Pipal Singh, Nanak Singh s/o Kashmir Singh, Sawarn singh @ babbi s/o Nanak Singh, Balbir Singh @ billu s/o chaman Singh, all residents of village Bholewal Jadid.

    He informed that in last 48 hours, 519 cases under Excise Act have been registered in Police Commissionerate Ludhiana and 590 persons have been arrested, 1830 litres of illicit liquor, 12018.84 litres of licit liquor, 26391 litres of English liquor and 250367.750 litres of lahan has been confiscated.

    He stated that in Police Commissionerate Ludhiana since May 18, 2020 till August 1, 2020, 270 FIRs under Excise Act have been registered, 301 persons have been arrested, 2 lakh litres of lahan has been confiscated and destroyed, 1612 litres of illicit liquor and 4606 litres of English wine has been confiscated.

    Mr Agrawal informed that a boat and divers have also been pressed into service so that maximum number of lahan is recovered. 

    Mr Bharat Bhushan Ashu said that a very unfortunate incident has taken place in the state where several persons lost their lives due to consumption of illicit liquor and any person found guilty would not be spared as Chief Minister Capt Amarinder Singh  is personally monitoring this case.