Covid vaccination camp organised jointly by Mayank Foundation and Rotary Club Ferozepur
DC Gurpal Singh Chahal appealed to Ferozepur residents to come out and receive their vaccine jabs to ensure safety of themselves and their families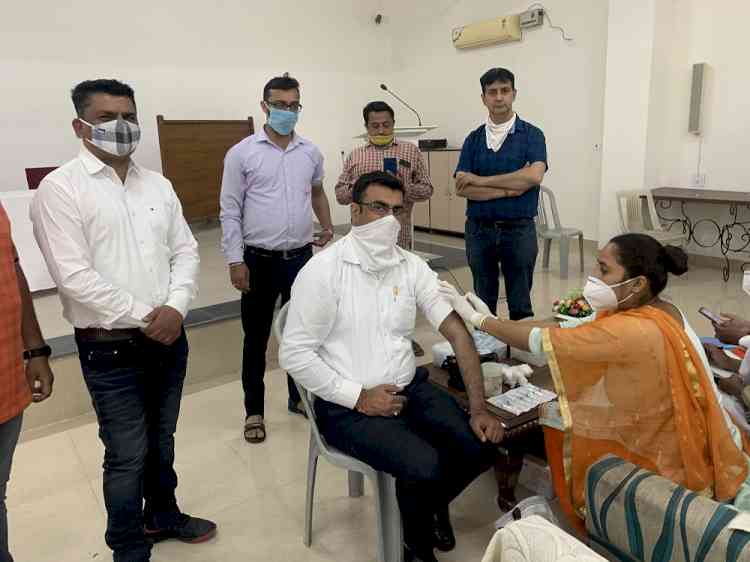 Ferozepur:
140 staff members including teachers, staff and general public were vaccinated at the day-long Covid-19 Vaccination Camp, organized at Dev Samaj Education College organized jointly by Mayank Foundation Ferozepur and Rotary Club Ferozepur in collaboration with the Department of Health, said Deepak Sharma and Ashok Behal.
 
Deepak Sharma, President Mayank Foundation was the first to be administered the vaccination dosage during this Camp. Deepak Sharma told that apart from checking the Blood Pressure of every person coming to the camp, medical history was enquired and post vaccination the person was kept under observation for half an hour.
 
Deputy Commissioner Ferozepur Gurpal Singh Chahal was the Chief Guest. He said the health and safety of public is foremost priority of Government. He said the District Administration is conducting these Vaccination Camps for convenience of public to take advantage of the distance and receive their vaccine jabs to ensure safety of themselves and their families. He specially commended the efforts of Mayank Foundation and Rotary Club Ferozepur for helping needy and migrant labor during the lockdown period last year and plan to organise around 100 Vaccination Camps this year.
 
College Principal Dr. Rajwinder Kaur said the staff members of the Dev Samaj College were benefited from this special initiative today. The Camp was specially attended by Civil Surgeon Dr. Rajendra Raj, Red Cross Secretary Ashok Bahl, Dr. Gazal Preet Arneja, College Principal Dr. Rajwinder Kaur.
 
It is important to mention that many steps are taken by the Mayank Foundation and Rotary Club in the field of social service. On this occasion, Health Deptt Team, Deepak Grover, Deepak Narula, Vipul Narang, Harvinder Ghai, Aseem Aggarwal, Sumit Malhotra, Rajiv Sharma and others were present. Staff of Dev Samaj College for Education Dr Parmvir Singh PRO, Dr Rajni, Mr Ajay, Ms Rajni, Ms Sunaina, Ms Tammana, Mr. Suresh Chauhan, Mr Madho, Ms Aman, Ms Arshdeep and Ms Harsangeet Kaur were also present.