Covid Outbreak: NGO `I Am Still Human' does yeoman service
Provides food kits to over 1200 underprivileged families in 20 days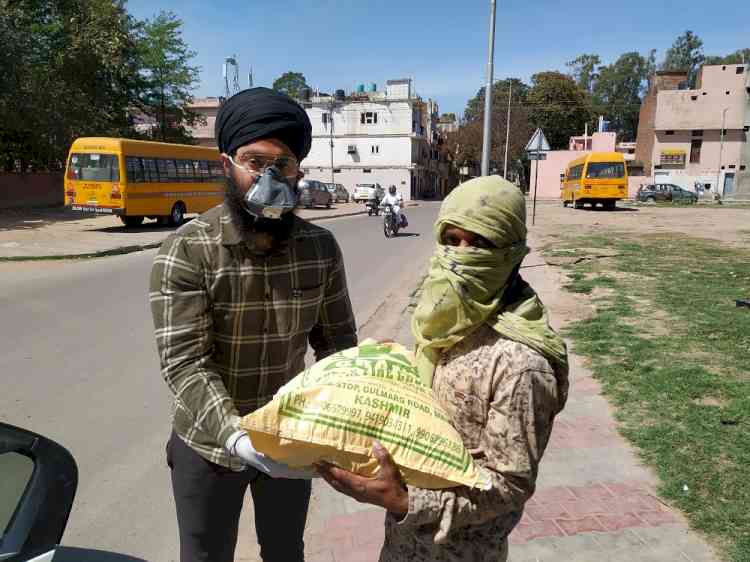 A volunteer of NGO 'I Am Still Human' distributing food kits to a needy person.
Chandigarh: With COVID 19 spreading in Chandigarh a city based NGO, 'I Am Still Human' (IASH), has come to the forefront to help underprivileged people like daily wage earners,  people living on the footpaths, slums and physically challenged people on the streets.   It is pertinent to mention that an MNC based in tricity - Big Rox has brought its upcoming property - 'Women Excellence Awards 2020'(WEL Awards) on board  IASH's campaign, under its Corporate Social Responsibility(CSR) plan. Another organisation Eduvelocity too has collaborated with IASH under its CSR. IASH has also partnered with The Catalysts PR to spread the message through media.  
 
The young team of 'I Am Still Human' has been working tirelessly for the last 20 days to provide succour to the underprivileged. IASH has already distributed free of cost food kits to over 1200 needy families,  more than 25,000 masks and beyond 18000 sanitizers.
 
Vivek Mehra, Founder , IASH said, "The ration we are providing in one kit will help a family of four tide over their food requirement for a fortnight. Our aim is to provide these kits to at least 2000 families. The other important aspect about our initiative is to spread awareness amongst the marginalised segment of our society about the nCOV and what ill effects it can present for a person, his or her family and country at large. The project envisages to make as many as 30,000 people in Chandigarh aware about COVID 19, so that it helps these people take  preventive measures against nCOV and save themselves and their families from the vice like grip of the virus."
 
The NGO has tried to reach out to people living in slums, people sleeping on footpaths and even physically challenged people who do not have a roof over their heads.
 
Mehra adds, "There are still a lot of families who are in need of help. Without any help, they might not have enough food to last through the lock-down. Our team's aim in the second phase of the campaign is to  reach such people and provide them with food and medical kits, which is the need of the hour."
 
It is noteworthy that 'I Am Still Human' is the only NGO working against COVID 19 in the city that has got support of a number of celebrities who have roots in Chandigarh and Punjab region. Bollywood Actor -Aparshakti Khurrana has supported the IASH cause on social media, film composer & singer- Sohail Sen too has commended the campaign. Music artists - Baani Sandhu and Preetika Bhasin have come forward and associated with the initiative. Well known stand up comedians and actors Sudesh Lehri and Rajeev Thakur have also supported IASH. What's more, cricketers like Jaskaran Sohi, Manan Vohra, Barinder Sran, Simrat Bawa and Gurkeerat Mann are also on board as supporters.