Covid-19 phase will be passed: Expert
Talk on 'Covid-19 and Health Hygiene' at Chandigarh Golf Club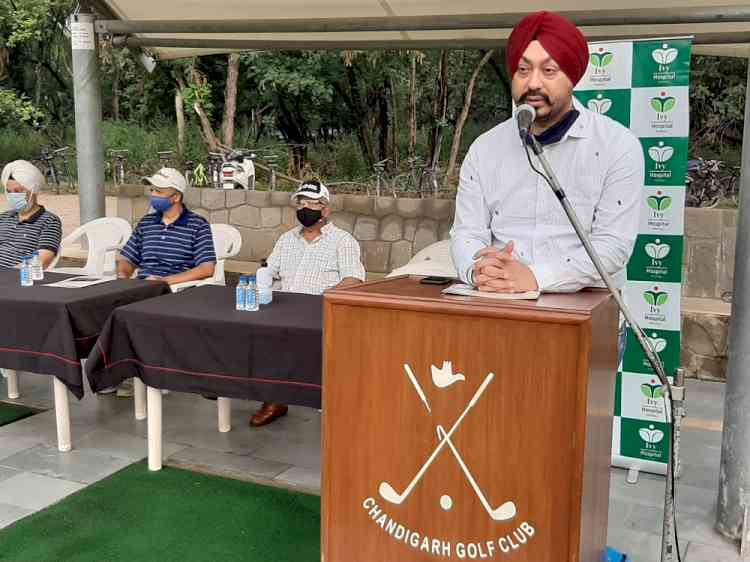 Chandigarh: "The fear of getting infected with Covid-19 is causing us an immense mental trauma. A certain level of anxiety always remains there and we keep on fearing on being infected by Covid-19. Due to this physiological pressure, our daily routines are being affected and so are our business and jobs. We should not unnecessary put our self under pressure as, it's a phase that would be passed."
 
Dr.Gurpreet Singh Babra, principal consultant of internal medicine at Ivy Hospital, Mohali stated this during a talk on 'Covid-19 & Health Hygiene' at Chandigarh Golf Club on Monday.
The talk was organized by Ivy Hospital, Mohali. Among other senior officials and staff of club including caddies, Sandeep Sandhu and Col Arun Rohal, president and GM of Club respectively along with Col Iqbal Singh, chairman of Caddies Welfare were also presented during the occasion.
Dr Babra said that one needs to be remained in a positive frame of mind by staying physiologically healthy.
 
"We should avoid negativity especially corona related fake news that is circulated in social media's different tools. We shouldn't pay any attention to these baseless news and more importantly not to forward it further."
 
Rather we can cultivate some other habits that we would like to do to spend our free time, he maintained.   
 
We Indians have a more strong defence mechanism in our body as compare to Europeans, he said.
 
In India the mortality rate from the virus is on the lower side. Among dead from the virus the majority were over 60–yr of age and had some other medical complications, he informed.
 
To keep the virus at bay, we need to make our defence strong by enhancing our body immunity, he asserted.
 
Good diet is a must with more focus on citrus fruits. Citrus fruits like lemon and amla have good sources of Vitamin C. For zinc, which is also very important for our immunity , we should eat yellow fruits like kinnow, orange and mangoes etc. For protein we can take pluses and paneer, he remarked.
 
Drinking enough water daily is also very important to stay fit, he said. The water intake should be 50-ml per kg of body weight, that means a person with 60-kg of weight is required to take 3 to 3.5-litre water in a day, he said adding one can take more than too.
 
Talking about the COVID-19 vaccination, Dr Babra said that we could see vaccination by this October or November end. COVID-19 is a mutated virus and scientists need to understand its each and every genetic code thus the delay in vaccination.
 
He also stressed upon the need to follow social distancing, wearing mask, washing hands at short intervals and maintaining healthy hygiene.
 
Talking about the use of good sanitizer, he said that only medically accepted alcohol-based should be used. He advised avoiding herbal sanitizer.
 
If someone develop any symptoms of the virus he or she should immediately report to nearest health dispensary of the hospital, he asserted.