Covid 19: Food packets prepared by Punjab Govt for needy to be distributed shortly: Mamta Ashu
Work regarding distribution of both dry ration and cooked food going on smoothly in Ludhiana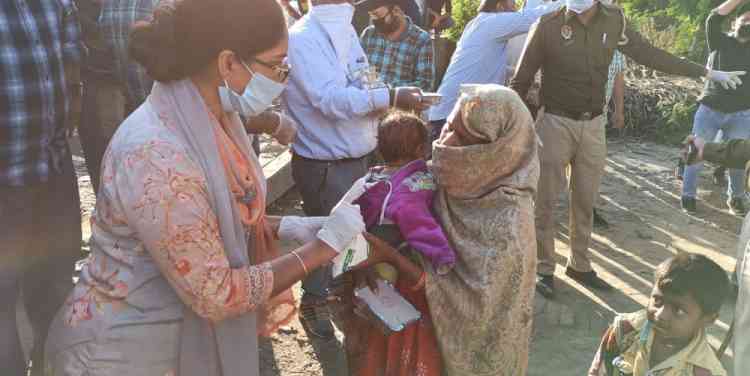 Ludhiana: MC Councillor Mrs Mamta Ashu today assured that the work regarding distribution of food packets being prepared by the Capt Amarinder Singh led Punjab government for needy persons would start shortly. She informed that the work regarding distribution of both dry ration as well as cooked food is going on smoothly in Ludhiana as team of Punjab Food, Civil Supplies & Consumer Affairs Minister Mr Bharat Bhushan Ashu is working 24X7.
    While speaking to media persons, Mrs Mamta Ashu informed that the team of Mr Bharat Bhushan Ashu is working 24X7 to ensure that no person sleeps hungry at night in Ludhiana. Today, the team visited Dhandari, Focal Point, Sherpur and other adjoining areas of the city, where mostly the migrant population resides.
    She informed that every day, she visits all areas of the city where needy people reside and distribution of cooked food is done. She informed that dry ration is also being distributed to people from the office of Mr Bharat Bhushan Ashu in Model Gram area of Ludhiana.
    Mrs Mamta Ashu thanked all NGOs, social and religious organisations working in Ludhiana during today's testing times and urged them to adopt particular areas of the district so that distribution of food can be done in a systematic and planned manner. She said that every person would be provided food.
    She has urged the residents not to indulge in hoarding of food items and said that in case any person has any requirement related to food, they can contact the office of Mr Bharat Bhushan Ashu or call at their helpline number 9872608900. Area residents also thanked the Punjab government for their efforts during the lockdown.
APPEAL 
MC Commissioner Mrs Kanwal Preet Kaur Brar have appealed to all NGOs, social/religious/political/industrial organisations distributing langar in the city should provide their information with MC Secretary Mr Surinder Pal Singh at his mobile number 98140-87436. She said that these days, the organisations are distributing food in the city and different organisations are covering the same area twice or even thrice, due to which some people in other areas are unable to get food on time. She said that the organisations should provide their details with MC so that distribution of food in entire city can be streamlined.