COVID-19: Brooke India evolve new ways of working to support equine owning communities
BI is carefully monitoring the emerging situation and analysing how it is going to affect our field operations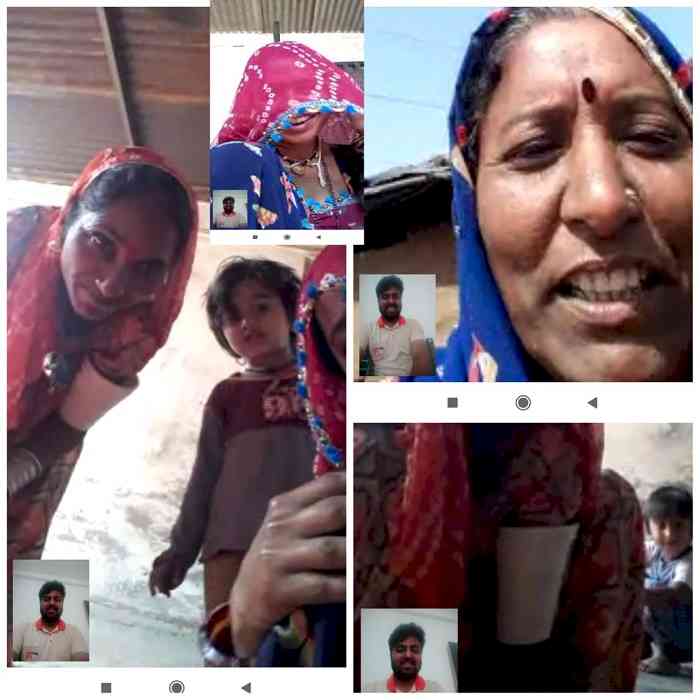 Brooke India staff members reaching out to donkey owner in Gujarat.
By Sharat K Verma 
The nationwide lockdown has severely hurt the poor and the marginalised communities due to the sudden loss of their livelihood. BI, a champion of equine health and welfare, knew it had to play an instrumental role in giving relief to equine and equine owning communities during these dire times. 
BI immediately responded by 
•    BI vet staff providing emergency veterinary treatment 
•    Volunteering in dry & cooked food ration distribution 
•    Providing first aid to equines through BI trained Animal Health Practitioners (AHPs) 
•    Facilitating in replenishment of First Aid Kits (FAKs)
•    Assessing the requirements of communities and informing it to the concerned authorities 
•    Awareness through SMSs on equine care and COVID 19 prevention
The COVID 19 environment challenged us to rethink how we can stay committed and continue to deliver an acceptable level of care to the equines as well as support equine owners. The sudden closure of brick kilns, loss of work, myths regarding COVID 19, overstretched administration, strict police deployment, stoppage of public transportation created panic, stress and anxiety among the equine owning communities. BI realised that while stress and anxiety were normal reactions in any crisis, yet it was important to devise a strategy to provide psychological support to our communities during the lockdown. As physical contact was not possible in the initial phase, BI team utilised technology to reach out to the equine owners and provided online counselling and advice to deal with the emerging situation. 
The BI team was reaching out to over 1000 beneficiaries on daily basis in our operational areas, through telephone calls. Our team also leveraged WhatsApp for making group calls with Community Based Organisation Leaders and Community Resource Persons. 
Distress support offered by BI
•    Calls inquiring about their family's well-being & need for maintaining personal hygiene. 
•    Assurance calls that BI will offer veterinary care to their animals during the lockdown. 
•    Dispelling myths regarding COVID 19, simplifying government advisories in their local languages
•    Ensuring access to dry food ration, green fodder & advance waiver through networking calls with Brick Kiln owners/Munshis. 
Through our interactions with community members, we realised that loss of livelihood, their uncertain future emerged as main reasons behind stress and anxiety. To overcome these hurdles, BI realised that identifying alternate Income Generating Activities (IGAs) was key to deal with the impending crisis. Understanding the market demands and lockdown restrictions, BI provided online training to Women Equine Welfare Groups (EWGs) to produce cotton face masks, Personal Protection Kits (PPEs) which were in demand throughout the country. Apart from these activities, BI also encouraged the women EWGs to take up embroidery work, broom making. At many places, equine owners started selling vegetables and transporting goods & essential items using their horse carts helping both themselves and the farmer. 
The feedback from the community is quite encouraging. Many owners have thanked the BI team for providing timely information and dispelling rumours about COVID 19. The Women EWGs members have appreciated the valuable guidance provided by the BI team regarding alternate viable IGAs during the lockdown. The equine owners have also thanked the BI field teams for providing 24x7 remote veterinary support for their equines and regular messages reminding the need for adhering to the routine animal husbandry practices. 
Despite the challenges faced by them during COVID 19 crisis, the morale of BI field staff is high, wherever possible they are providing emergency services, taking all the necessary precautions. None of our staff members have so far tested positive for corona infection. 
BI is carefully monitoring the emerging situation and analysing how it is going to affect our field operations. The current Coronavirus pandemic has helped BI to evolve new ways of working, and mobile technology has proved to be a game-changer enhancing our reach among the equine owning communities during various phases of the lockdown.