Covid-19: 20,000 food packets to be distributed in Ludhiana district from tomorrow onwards: DC
Food packets would be distributed amongst people from weaker sections of society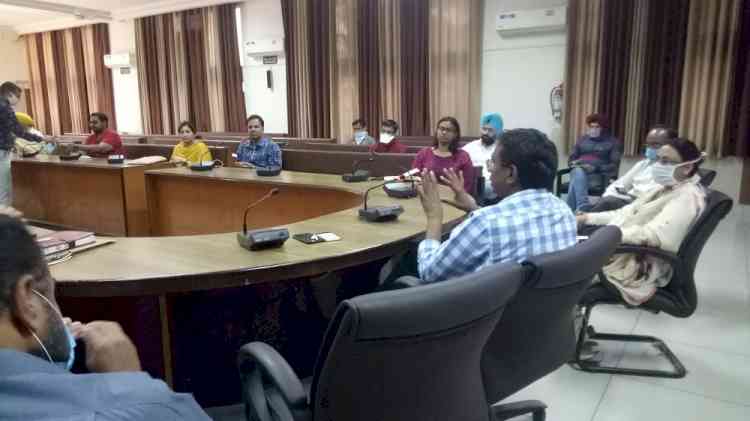 Ludhiana: Deputy Commissioner Mr Pradeep Kumar Agrawal today informed that to help the people hailing from weaker sections of society, around 20,000 food packets containing dry ration would be distributed amongst such persons from tomorrow onwards. He informed that the Municipal Corporation and SDMs have been asked to identify such areas and start the distribution of dry ration from tomorrow onwards.
    The Deputy Commissioner said this while chairing a meeting to review the COVID 19 situation in the city, at Bachat Bhawan, here today.
    He informed that the District Administration, with the help of several NGOs, social and religious organisations is already distributing dry ration as well as cooked food in different parts of the district. He said that more than 44,000 packets of cooked food were distributed in the district yesterday alone and similar number of packets would be distributed in the coming days as well.
    He further informed that till date, 67 samples were sent for testing, out of which only two have tested positive, 54 samples were negative, report of nine samples is awaited while two samples were rejected. He informed that health of both the COVID 19 positive patients, who are undergoing treatment in the city, is improving.
    The Deputy Commissioner said that essential commodities are being provided to all needy persons by the District Administration and Rs 20 lakh each have already been transferred to the bank accounts of all SDMs. He also asked the Municipal Corporation Commissioner Mrs Kanwal Preet Kaur Brar, who was also present in the meeting, to ensure that the night shelters are prepared where people in distress can be shifted till the lockdown. He also asked her to provide them food and other basic necessities there.
    He said that some people are submitting false complaints on the helpline numbers claiming that essential commodities have not been provided to them. He directed the senior district administration officials to register FIR against any person who submits a false complaint/claim in this regard.