Convocation of MCI advance course held in CMC
Participants were part of simulated scenarios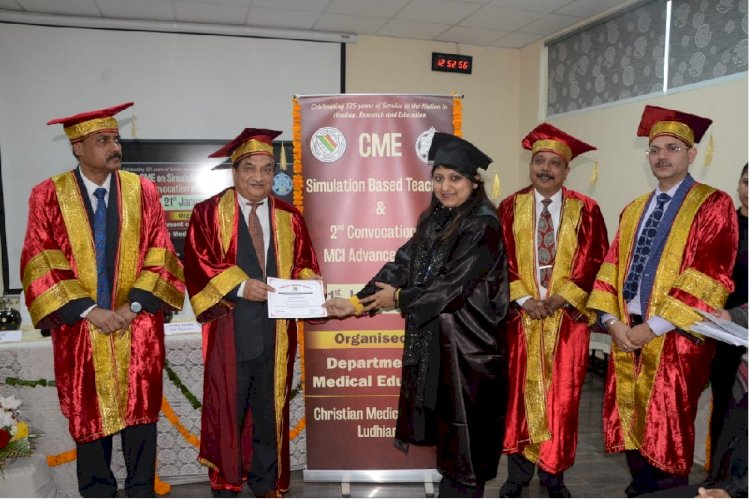 Convocation of MCI advance course being held in CMC, Ludhiana.
Ludhiana: Department of Medical Education (DOME), Christian Medical College, Ludhiana honoured 52 teachers from various medical colleges of India in 2nd convocation of Medical Council of India (MCI) Advance Course in Medical Education. 
The convocation was held on 21st January along with one day CME on Simulation Based Teaching. Vice-Chancellor of Baba Farid University of Health Sciences, Faridkot was Chief-Guest on the occasion. He highlighted the role of training programs for teachers in medical colleges and the changing scenario of medical education. 
The day started with inauguration of new state of the art complex of Department of Medical Education. The DOME has been conducting one-year advance courses from 2014. The DOME has trained numerous teachers from various medical colleges of India as well as other countries. 
Dr. Jeyaraj D. Pandian, Principal, CMC, welcome the delegates and dignitaries. He informed that CMC is contributing to medical education for a very long time and now this state-of-the-art facility will add more facilities to the various courses.  
Dr. William Bhatti, Director, CMC, added that newer methods like simulations should be judiciously used for improving skills of the budding doctors and CMC has developed skill labs for teaching of MBBS students. Dr. Dinesh Badyal, Professor & Convener of DOME introduced the theme of the CME and informed that CMC conducted first convocation of ACME in the country. CMC is now organizing 2nd convocation of the course. He added that CME being conducted along with convocation included hands on experience on simulation of clinical skills, technical skills and soft skills in small groups for teachers. DOME, CMC Ludhiana has collaboration with Rector centre, Thomas Jefferson University, Philadelphia. DOME faculty is trained in EUSIM level 1 instructor courses. Simulated situations were created by using mannequins, simulated patients and hybrid models. 
The participants were part of the simulated scenarios and experienced the actual run of these scenarios. 
The sessions in the CME were conducted by faculty of Department of Medical Education and experts in simulations including Dr. Monika Sharma, Dr. Bharti Uppal, Dr. Kavita Mandrelle, Dr. Sheena Singh, Dr. Roma Issac, Dr. Aroma Oberoi, Dr. Gagandeep Kwatra, Dr. Deepshikha Kamra, Dr. Suchitra Deolalikar,  Dr. Ajay Kumar and Dr Maria Thomas.