Contemporary solo dance performance by London based dancer enthrals audience
Dance for me is the best way of expression without words, says Akshay Sharma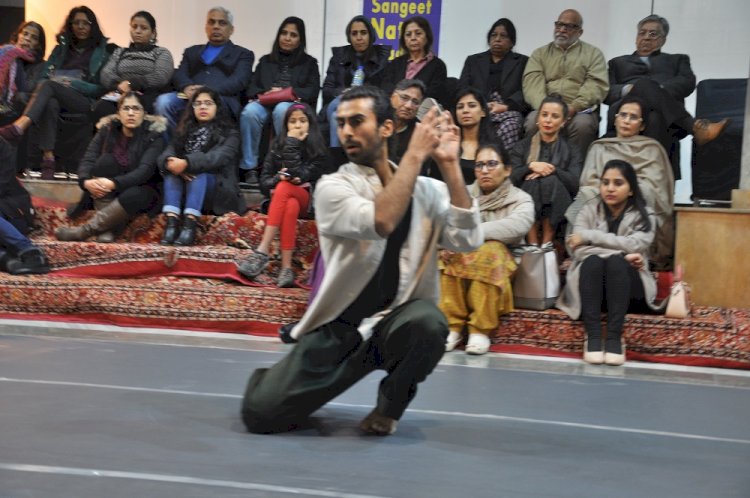 Dancer Akshay Sharma giving an enthralling performance at Chandigarh Sangeet Natak Akademi, Sec 38, Chandigarh.
Chandigarh: A very creative and unique solo contemporary dance performance 'Two feet and seven thousand words' was staged at Punjab Sangeet Natak Akademi, Rani Laxmi Bai Bhawan, Sec 38 here. The performance was showcased by 31-year-old Akshay Sharma, who originally is from Chandigarh and now is based at London.

Akshay Sharma who is a versatile dancer, choreographer and dance teacher said,"Dance is not just only the movement of body, for me it's one of the best ways to express without words."  
The performance titled 'Two Feet and Seven Thousand Words', which has been choreographed by Akshay and Puneet Jewandah - another well known dancer & instructor from Chandigarh, is a dance performance where the dancer explores images of connection, despair, loss and re-gathering of fragmented landscapes by assembling the moment of crisis. Sometimes light, sometimes heavy. The performance reached fruition after over a month of hard-work.
It is noteworthy that Puneet is the founder and director of The Engine Room. She trained in New York and since then has continued her learning and teaching practice in India. She is also a certified Yoga instructor and carries a strong vision for the development of contemporary dance in Punjab.
The dance which depicted images of an echo, the moment of flight, the negotiation of its peak and resolution of the embers of its burn attempted to capture the panic in a glass in the moment of its crack and its eventual shattering.
While travelling around  India and the world as a choreographer, Sharma was influenced by the somatic or physical body, architecture, landscapes, geology and a desire to push human capabilities, to express without words, things that only the moving body can offer.
A dancer, choreographer and teacher from Chandigarh, now based in England, Sharma has trained at Northern School of Contemporary Dance, Leeds, UK and has worked and collaborated with various companies and artists based in Europe.
To understand the intricacies involved in creative & abstract performances like the one presented at Chandigarh , he also took classes in jazz, ballet and ballroom dance, which helped him to become a better version of himself.
The self devised performance was poetic and left the audience in awe because of the sheer talent displayed by Akshay through his movements.   
"For me, dance is something, where I explore internal and external space. It actually transports me somewhere. My quest to learn dance never ends. The more I go deep in it, it makes me realise that my interest is more focused on the body than techniques," said Sharma.
Akshay who is a recipient of Gati Dance Residency, New Delhi, Artists Takeover Residency, Bradford and Northern Connections Residency, Leeds has performed in the United Kingdom, Sweden, South Korea and India.
 
Puneet Jewandah who was to perform along-with Akshay could not due to an injury. She said , " We would like to take this ensemble which has been very painstakingly put together by us to other parts of India and even abroad . The first stop abroad will be London. We also want to showcase the performance at theatre and dance festivals."