'Contemporary King' Samarpan Lama lifts the trophy of Sony Entertainment Television's homegrown format, India's Best Dancer – Season 3
Walks away with prize money of Rs.15 lakhs and the coveted title of being India's Best Dancer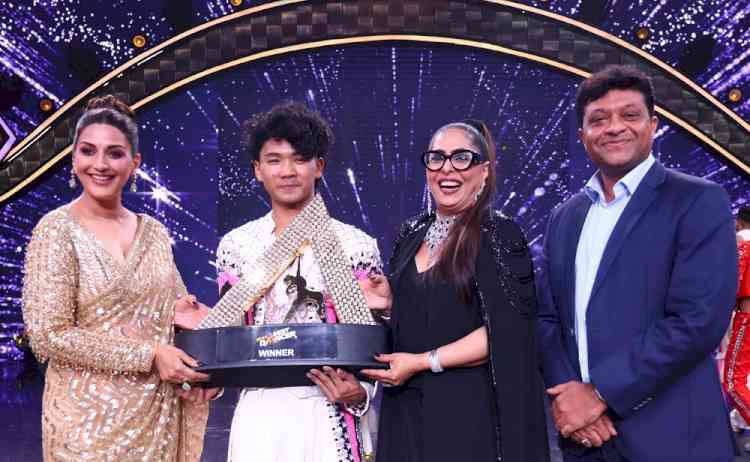 Judges - Sonali Bendre, Geeta Kapur and Neeraj Vyas, Business Head - Sony Entertainment Television, Sony SAB, PAL, and Sony MAX Movie Cluster along with winner Samarpan Lama.


Sony Entertainment Television's highly acclaimed homegrown format, India's Best Dancer 3, has taken the nation by storm with its superlative talent, diverse dance forms, and entertainment par excellence. Having introduced viewers to some of India's finest dancers who left one and all awestruck with their breathtaking performances, the dance reality show saw contestant Samarpan Lama triumph as the winner after an intense battle of the 'TOP 5 finalists' in 'Finale no.1'. Samarpan Lama won prize money of INR 15 lakhs and lifted the coveted trophy of India's Best Dancer 3, while his choreographer Bhawna Khanduja was awarded a cheque of INR 5 lakhs.
The electrifying episode was graced by the presence of Bollywood's Hero No.1 - Govinda and the cast of 'Ganapath' - Tiger Shroff and Kriti Sanon. The special guests joined host Jay Bhanushali and Judges Sonali Bendre and Geeta Kapur to provide their unwavering support to the top 5 finalists: Shivanshu Soni, Vipul Kandpal, Aniket Chauhan, Anjali Mamgai, and the ultimate winner, Samarpan Lama. The vibrant kids of 'Super Dancer' – Florina Gogoi, Pari Tamang, Tejas Varma and Aneesh Tattikotta and the talented contestants – Vaibhav Gupta, Aathya Mishra and Muskaan Srivastava, of the upcoming Indian Idol Season 14 with its host Hussain Kuwajerwala, upped the ante of entertainment in 'Finale No.1'.
Staying true to this season's theme, #HarMoveSeKarengeProve, Samarpan's win is well deserved and his journey on the show has been nothing short of a roller-coaster ride. In the audition round, he stood out as the second contestant to reach the "Behtareen 13",  the first of many steps towards making his dreams come true. For his cuteness, his graceful moves, and the magic he unfolded with contemporary dance, he received admiration from the three judges and the celebrities who graced the show. He was aptly titled as the 'Cutie Minister' by Sonali Bendre, Judge Geeta Kapur applied her signature 'Kaala Teeka' on his feet to symbolize her admiration for his moves, and even said she saw a glimpse of Terence in him while Judge Terence Lewis referred to him as the "King of Contemporary". Renowned choreographer Remo Dsouza, in awe of Samarpan's talent and dedication, gifted him a pair of shoes as a token of respect. But one standout act that Samarpan will always be remembered for was his heartwarming performance in female attire to the song 'Param Sundari', which was most loved by guest Raveena Tandon, who called him 'Miss Diva'. However, the most touching moment was when Samarpan reunited with his father on the stage of India's Best Dancer after many years, bringing tears of joy to his face.
Samarpan Lama – Winner of India's Best Dancer Season 3 said, " It feels surreal! I always watched reality shows and wished that I would be a part of one such show someday. But what I never imagined was winning my first dance reality show; it's truly a dream come true for me. When I was selected in the 'Behtareen 13' after Aniket Chauhan, that moment, for me, was a winning moment. I never thought I would come this far in the show. Through the course of this competition, I tasted both success and failure. Failure is important too, as it teaches you a lot, and that helped me give my best and push harder. Today, because of it, I have become a better dancer. Words can't describe what India's Best Dancer Season 3 means to me; it will always be close to my heart. Lastly, I would like to thank ''My People' for believing in me and supporting me. My win is their win too."
 
Sonali Bendre – Judge of India's Best Dancer Season 3 said, " Samarpan is my 'cutie minister' and I am so happy for his win. Even though he is not a trained dancer, he never failed to impress us, as his love and passion for dance was evident in every act. Right from his performance in the audition round until his performance in the finale, Samarpan has always been a delight to watch. He is not only a great dancer but also a champion, which he proved by winning the hearts of the entire nation with his moves. His win is a testimony to this, and I wish him immense success ahead."
 
Geeta Kapur – Judge of India's Best Dancer Season 3 said, "This season stood out with extraordinary dancing talent making their way to the spotlight, making it tough for us to judge. I am truly happy about Samarpan Lama's win as he displayed a spark from the very first day that he joined the show. His way of illustrating contemporary dance on this stage was incredible; and I can proudly say he will be the future of contemporary dancing. He truly deserved it and I wish him all the very best for his future endeavors."
 
Terence Lewis – Judge of India's Best Dancer Season 3 said, "This season of IBD was special as we had the most eclectic mix of talent, and a good representation from Contemporary to Classical, Hip-Hop to Bollywood! I also feel the talent of this season was a cut above the rest, by bringing in freshness, innovation and more importantly, ease in their skills! The top 5 were so neck to neck in competition that we couldn't see a clear winner because all the top 5 gave tough competition.  However, with regards to Samarpan, I have to say that in the audition itself, Samarpan of 18 years, was a breath of fresh air, and he brought in with him a new wave of contemporary dance that didn't rely on gymnastics or circus acrobatics, but rather real and sophisticated talent in dance. He had the ability to articulate his emotions beautifully through his skills, with ease and confidence, which was missing so far! His win is historic as he will be the first Contemporary Male Dancer to win a title in this style and I'm very happy that he will be the flag bearer for contemporary for a long time to come. Wishing him all the luck for his future!"