Consultation Workshop of Academic Institutions and Civil Society Groups on National Curriculum Frameworks with respect to NEP-2020 north zone 
Consultation Workshop of Academic Institutions and Civil Society Groups on National Curriculum Frameworks with respect to NEP-2020 north zone was organised by Panjab University.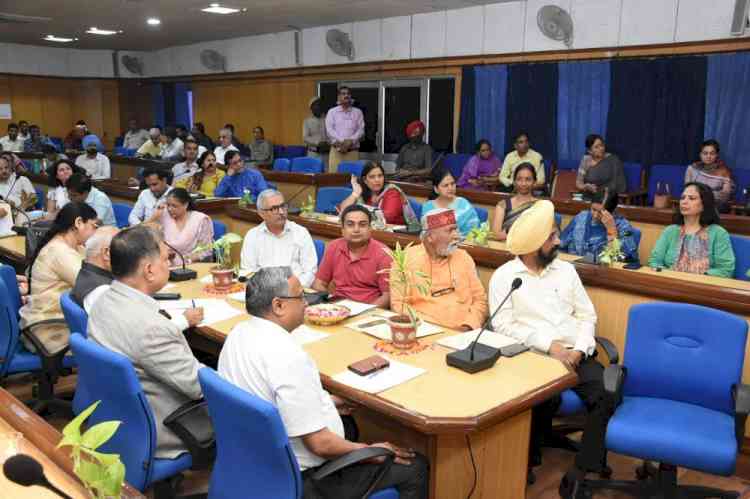 Chandigarh, August 14, 2022: Consultation Workshop of Academic Institutions and Civil Society Groups on National Curriculum Frameworks with respect to NEP-2020 north zone was organised by Panjab University. The workshop was inaugurated by Governor Punjab and Chief Administrator Chandigarh Sh. Banwarilal Purohit Ji. He exhorted academicians, civil society groups, and NGO's to work together to create a system of education that is holistic, value-based, and rooted in the ancient knowledge system. He said that as the world is undergoing rapid changes in the knowledge landscape, there is an urgent need to reform education structure and system, pedagogy, and curriculum per aspirational goals of the 21st century while remaining consistent with India's traditions and value systems. The focus of education needs to shift from content delivery to developing critical thinking and problem-solving skills in the younger generation so that they can be made more creative and innovative. To fulfill the goals of the National Education Policy (2020), a new National State Curriculum Framework and New StateCurriculum are being formulated. I am hopeful that from the deliberations in this workshop, 'amrit' will come out, rejuvenating our education system. Vice-chancellor of PU Prof Rajkumar said that NEP 2020 envisions India centered education system that contributes directly to transforming our nation's sustainability into an equitable and vibrant knowledge society by promising high-quality education to all. The development of the NCF's and SCF's would be guided by the understanding of respected outcomes at the end of each stage for the holistic development of children. Prof. SV Sharma, Principal RIE, provided an overview of the NCF process and structure. He said that the dream of this NCF is to make global learners who are rooted in Indian values. The bottoms-up model is being employed by having discussions at the local level.
The 2nd technical session started with Prof. Nandita Singh of Panjab University, Chandigarh, elaborating on the need for the linkages between school education and higher education. She stressed the need for a cost-effective and holistic education. Prof. Singh elaborated on the need for minimising the gaps between school education and higher education, which presently faces problems of low enrolment, significant dropout, and quality education. Prof. S.K. Tomar, Vice Chancellor, J C Bose University of Science and Technology, Faridabad, spoke on the need for holistic education focussing on the child's physical, mental and spiritual well-being. Professor
Tomar further elaborated on interlinking school and higher education by visiting the college and university teachers' schools to ignite young minds. Additionally, he suggested initiating specific skill-based courses of short duration in higher education institutes for school students primarily to motivate the students at an early age. Professor R P Tiwari, Vice Chancellor, Central University of Punjab, Bathinda, focussed his talk on four fundamental aspects of school education, i.e., curriculum, content, pedagogy, and evaluation. Professor Tiwari also stressed the need for holistic education with moral and spiritual values.
While talking about content in school education, Prof. Tiwari stressed that our school education should be based on our traditional knowledge, and it should be all with some take-home message. He further elaborated his point by giving examples of stories of Panchatantra. While talking about pedagogy, Prof. Tiwari further suggested that our higher education institutes should think of implementing skill-based learning and not just content delivery. According to Prof. Tiwari, the evaluation should be continuous and not just a one-stop process. Prof. Baldev Setia, Director, Punjab Engineering College, Chandigarh, strongly advocated the need for value-based education in the school system with some direction for doing something for society. Prof. Setia suggested strengthening the school education at the primary level by more storytelling, be it from Panchatantra, local stories, history, and visits of the students to the universities and institutes of higher learning. He strongly advocated that we should not be burdening the child with excessive load at the primary level. Professor Archana Mishra, Vice Chancellor of Dr. Bhimrao Ambedkar National Law University, Sonipat, spoke about having more extra-curricular activities at the school level as focusing on core education leads to a lot of psychological issues later on. Prof. Archana Mishra suggested having subjects like environmental laws, crime against women, sports-based education, and more skill-based courses in school education. The session concluded with a vote of thanks from Prof. Nandita Singh.
Civil Society Organisations SPSTI, Round Glass Foundation, Sikhya, Yuvsatta, and Pratham conducted the technical session- II.
In technical session - III, Prof. Tankeshwar brought up that in developed countries, life skills are imparted to children at a young age. They learn citizenship values at school. Students can become lifelong learners only when they know how to resolve problems creatively. Teachers' role is going to be very, very important. Dr. D. K. Singh commented that there is more flexibility in universities abroad, but this kind of flexibility is not available to our students, especially in medicine. Working condition in medical institutions is not up to the mark. We need drastic changes in medical education. Prof. Ahuja mentions that research is lacking in the school system. Most of our research is from top to bottom, i.e., university to school education, whereas it should start at school. This school system has to be integrated into higher education. Research should begin when we have curiosity and imagination at their peak. A culture of innovation needs to be activated. Coaching centres are killing the research-based learning system. Visits of school students to higher learning institutions can be arranged. Train our teachers to teach a high level of research they can use in their teaching. We need to make the curriculum flexible, Interesting, and life-oriented. Prof. Ajmer Singh said education has morphed into a gateway to employment. Holistic development of students does not take place. Information technology has changed the structure of society, and job requirements are also changing. Personality development courses can be started in educational institutions to imbibe values and skills. We can also invite the civic society to collaborate in the process of teaching. Prof. Karamjeet Singh says they introduced many vocational courses at Jagat Gurunanak Open University. For inclusion, they provided education to those groups that had not been targeted earlier, like prisoners, visually & auditory imparted students, value-based education, health & nutrition, and engaging content is needed in the curriculum.
Dr natalia vega empasised on the importance of self-learning, open educational spaces for experiential learning, and need to physical classrooms for better teaching. Round Class Foundation basically works for the well being of Punjab. Its main focus is on developing 21st Century pedagogies. Their foundation also works on creating mentors who can support children's learning. They emphasized on use of self-experiential learning and self-organized learning environment. They also talked about teacher's professional development according to 21st century needs. One of the highlights was open space classrooms where they can learn through discussion The main focus is on strengthening the learning ecosystem & early childhood care and development.As the entry of children into grade 1 is 6 years.but still students of year 5 are enrolling .so there are gaps because if 5 year kid should have more burden. According to Prof.Karamjeet Singh , there is a dire need for the education of the orphans. He emphasised on value based education that leads to satisfaction . There should be less content but it should be value based. The seven habits i.e.character,patience,strong mind,Knowledge,Fear,Hardwork and love should be focused.
According to Prof. Rajiv Ahuja, Research should be given by arousing by curiosity of children.Our mind sets have to be changed.In the valedictory session, professor Renu Vig, while giving concluding remarks said that we need a system of assessment that evaluates students thinking capabilities and practical skills, We can also have two tier evaluation for professional courses. In addition to that, she also suggested that students should be provided an opportunity to choose courses according to their own interest and attitude.