Constitution Day 2021 at PU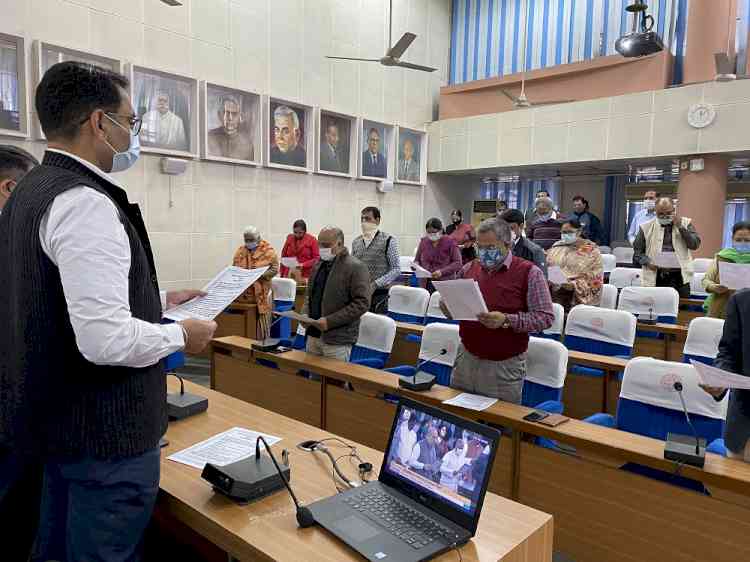 Chandigarh, November 26, 2021: To commemorate the National Constitution Day, Prof. Raj Kumar, Vice Chancellor, PU read out the Preamble and pledged to uphold the values and principles of the Constitution, today.
Prof. V.R.Sinha, Dean University Instructions, Prof. S.K.Tomar, Dean Research, Prof. Devinder Singh, Secretary to Vice Chancellor, Prof. Meena Sharma, Dean Student Welfare (Women), Prof. Ashok Kumar, Associate DSW, Prof. Deepti Gupta, Dean International Students, Prof. Anupama Sharma, Dean Alumni Relations, Prof. Sukhbir Kaur, Prof. Simrit Kahlon, along with entire staff of VC office building, were present.
Similarly, CA Vikram Nayyar, Registrar, PU in the presence of Dr. Jagat Bhushan, Controller of Examination, and all DRs, ARs and staff of Administrative Block, also took the pledge.  
Almost all departments of PU took the pledge on the Constitution day in the presence of faculty and staff. Some of the departments include Education, Alumni House, Political Science, Geography, USOL, Biochemistry, Community Education, Public Administration, Computer Centre, UIHTM, Chemistry, Dept. of Life Long Learning, Sports, VVBIS&IS, Hoshiarpur.