Congress MLAs and councillors ruined people of Punjab: Anmol Gagan Maan
Says, people of Mandi Gobindgarh, Doraha and Payal have to live without basic amenities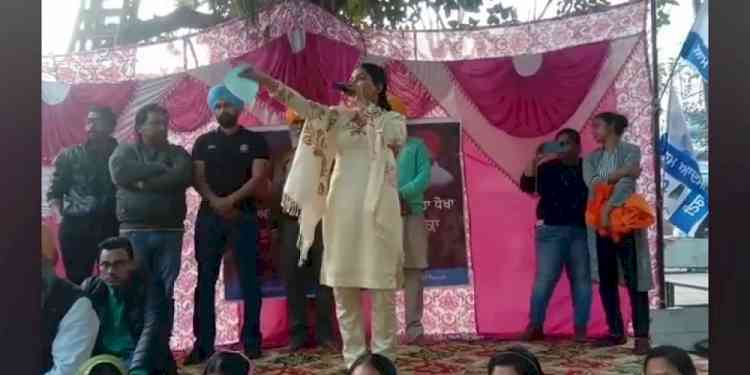 Sri Fatehgarh Sahib/Ludhiana: The Aam Aadmi Party (AAP) Youth Wing co-president Anmol Gagan Maan, campaigned for the AAP candidates for the municipal bodies' elections in Mandi Gobindgarh, Doraha and Payal on Thursday. Addressing the people during the public meetings, she said that the Congress MLAs and city councillors had ruined the people of Punjab. Anmol Gagan Maan said that today, the people have to live without the basic amenities including clean drinking water, poor sanitation with condition of roads in a bad state and no system of drains in the city. She went door-to-door in Mandi Gobindgarh area showing the poor condition of roads and drains and said that the ruling Congress was directly responsible for this.
She further said that the way the Arvind Kejriwal government in Delhi had made changes and improved the standard of living of Delhi residents; with the formation of the Aam Aadmi Party government, the cities of Punjab would also be developed like Delhi and the condition of good health facilities and government schools would also be improved. "The Congress government has only disappointed the people of Punjab," she added.
Maan said that today, the people of Mandi Gobindgarh, Doraha and Payal, have to go through and live without drains, broken roads and suffer all sorts of problems. "All the people who meet AAP workers all over Punjab say only one thing that the Congress has only betrayed them and this time, they will give a chance to the Aam Aadmi Party," she added. She appealed to the people to make the candidates of the Aam Aadmi Party win for urban development and to eradicate the rampant corruption in the municipal bodies.