Congress has history of having links with terrorism: K'taka BJP
The ruling BJP in Karnataka on Wednesday alleged that the Congress has a history of having links with terrorism.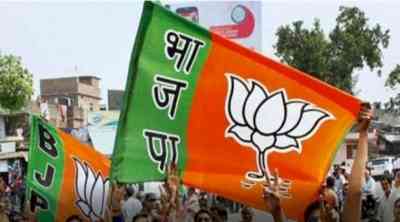 Source: IANS


Bengaluru, Jan 25 (IANS) The ruling BJP in Karnataka on Wednesday alleged that the Congress has a history of having links with terrorism.
The retort, in a series of social media posts, comes in the wake of Opposition leader Siddaramaiah's recent claim that Congress opposes terrorism in all its forms.
"Siddaramaiah claims that former late Prime Ministers Indira Gandhi and Rajiv Gandhi sacrificed their lives for fighting terrorism. However, who triggered the terrorism and what was the objective of it?" BJP questioned.
Indira Gandhi used Bhindranwale (Jarnail Singh Bhindranwale) for politics. It was unfortunate that she had to send the Army to the Golden Temple of Amritsar to end the Khalistan rebel groomed by her. The Congress has forgotten that ugly politics will bring forth ugly situations.
Sikh community opposed Indira Gandhi for first nursing Bhindranwale and then finishing off. She had to pay with her life for it. But, who is responsible for the massacre of Sikhs following the killing of Indira Gandhi? BJP questioned Congress.
"Our yet another PM was killed by LTTE. However, when the facts are verified on who supported LTTE, the fingers will point at Congress party. Who supported and helped Prabhakaran of LTTE to grow? The Congress should understand all this," it charged.
By strengthening rebel groups, Indira Gandhi wanted to control neighbouring countries. It was her calculation that if LTTE was strong in Sri Lanka, it would help to control the country. LTTE cadres were called inside the territory of India and they were trained, BJP explained.
"Whenever, Sri Lankan Army attacked LTTE, arms were supplied and medical treatment to cadres was extended from India. All information was given to the Congress. Mr Siddaramaiah, the Congress party which you are in had a nexus with terrorism," the saffron party stated.
It further said "LTTE turned hostile to Rajiv Gandhi as this relationship was stopped. He sent the Indian Army to Sri Lanka and made it fight with our own intelligence agency. Congress has the history of colluding with terrorism, like playing chess with a venomous snake. Unfortunately, following this, Rajiv Gandhi was killed."
"Mr Siddaramaiah, when this happened, you had not joined the Congress party. D.K. Shivakumar (Karnataka State Congress President) might not have informed you about all these developments. That's why we are informing you of all this," BJP stated.