Congress dares BRS for debate on scams in Telangana
The Congress party on Saturday dared Telangana's  ruling Bharat Rashtra Samithi (BRS) for a debate on scams in Telangana during the last nine years.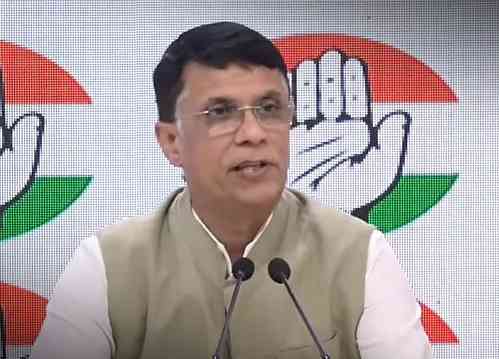 Source: IANS


Hyderabad, Sep 16 (IANS) The Congress party on Saturday dared Telangana's  ruling Bharat Rashtra Samithi (BRS) for a debate on scams in Telangana during the last nine years.
Congress Working Committee (CWC) member Pawan Khera reacted strongly when asked to comment on the posters put up by BRS in Hyderabad calling CWC Corrupt Working Committee.
"Look who's talking. Yesterday we got breaking news that the daughter of the Chief Minister will be summoned again by the ED. We know what is happening where," the Congress leader said at a Press briefing ahead of the CWC meeting which began here Saturday.
He was referring to the ED summons to Chief Minister K. Chandrasekhar Rao's daughter K. Kavitha in Delhi excise policy case.
"When you enter Telangana you hear stories of corruption, land scams, mega scams in the last 9 years. Our limited response is look who is talking. If they have the courage, we are ready for a debate on the scams done by BRS in the state and even outside the state."
On Kavitha's allegation that the ED probe against top Congress leaders including Sonia Gandhi and Rahul Gandhi had slowed down, Pawan Khera remarked that she doesn't read newspapers.
"Cases are continuing against us. Rahul Gandhi lost his (Lok Sabha) membership and got it back only through the Supreme Court. Doesn't she know what kind of struggle we are doing. Rahul Gandhi was made to vacate the house," he said.
"If she has courage, we will ask 4-5 questions. Let her answer. I have not heard her speaking a word about Adani. She can't speak. If we bring forth scams and scandals of her party, it may take many days for her to come before the media," the Congress leader added.
On Kavitha criticising the promises being made by the Congress party in Telangana, Pawan Khera asked why she was interested in the Congress manifesto. "She should be worried about non-implementation of her own father's party's manifesto. She should be bothered about her own party. When your father is the chief minister and you lose the election, you should be more worried why you lost," he said referring to Kavitha's defeat in 2019 Lok Sabha elections.
He also slammed BRS leader for questioning how the Congress will implement six guarantees in Telangana when it failed to implement the guarantees given in Karnataka.
"BRS has completed nine years here and we came to power in Karnataka only three months ago. Even if you compare, you will find Karnataka ahead of them," he said.
Pawan Khera said the BRS leaders were speaking without thinking. "You have completed nine years but Hyderabad still faces problems of water logging and flooding. You are talking about Karnataka where the new government came only three months ago. The work has already started. The first meeting cabinet started taking decisions on guarantees. Free bus travel service has already started and similarly several other guarantees were implemented. Don't indulge in hit and run. Come forward and have a debate on your two manifestos (2014 and 2018) and we will bring our Karnataka manifesto," he added.