Cong MLAs running liquor mafia in Punjab: Sukhbir Singh Badal
SAD demands police investigation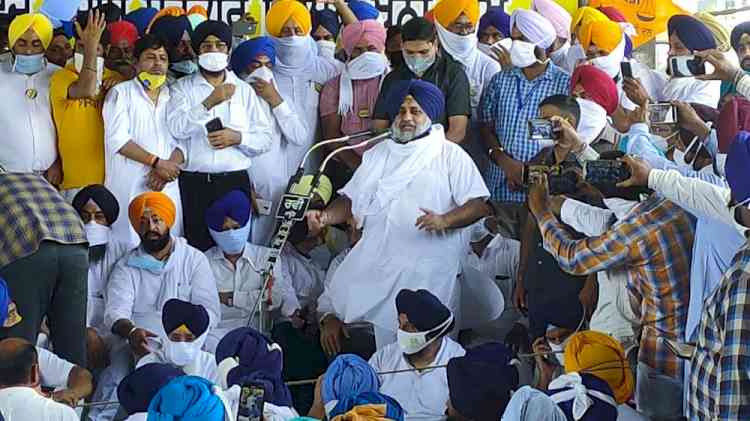 Khanna: Shiromani Akali Dal (SAD) President Sukhbir Singh Badal today said Congress legislators were running the liquor mafia in Punjab and this was why chief minister Capt Amarinder Singh was not taking any action against the mafia.

Addressing a massive dharna held here against the illegal distillery which was run in Bahomajra under the patronage of the Congress liquor mafia, the SAD President said Congressmen were looting the State causing not only a massive loss of Rs 5,600 crore in excise revenue but also leading to 130 deaths in the recent hooch tragedy.

Sukhbir Badal said the chief minister was utterly insensitive to the problems of the people and had visited Punjab only seven times in the last more than three and a half years. He said the chief minister had only gone once to his hometown Patiala. "Never ever have we had such a chief ministers who is completely inaccessible and is ensconced in his farm house in Chandigarh and refuses to meet the people. In the absence of the chief minister Congress legislators have created their own liquor and sand mafias and are looting the people as well as the State treasury at will".

Badal said the erosion in excise revenue was a direct result of the Congress mafias. He said from revenue of Rs 5,000 crore during SAD-BJP tenure, the excise revenue had gone down to Rs 3,500 crore now during Congress rule. He said this was why there was no money to run social welfare schemes and atta-daal cards were being deleted and social welfare outlays were not being released.

Stating that the SAD was a family of Punjabis, Badal said it was during SAD-BJP tenure that farmers got free power, the disadvantaged received aata-daal and shagun schemes even as power was made surplus and world class infrastructure was created. He announced that once the SAD-BJP was returned to power the new government would focus on ensuring cementing of all streets and drains in all 12,700 villages in the State besides extending modern facilities to them.

Senior leader Maheshinder Singh Grewal also spoke on the occasion and warned the police officers shielding the real culprits.
Former minister Bikram Singh Majithia while speaking on the occasion demanded strict action against all police officials accused of dereliction of duty during the recent hooch tragedy. 

Others who spoke on the occasion included Dr Charanjit Singh Atwal, Hira Singh Gabadia, Sharanjit Singh Dhillon, Santa Singh Umedpuri and Gurpreet Singh Raju Khanna.