Cong holds 'Housing Societies Pe Charcha' Programme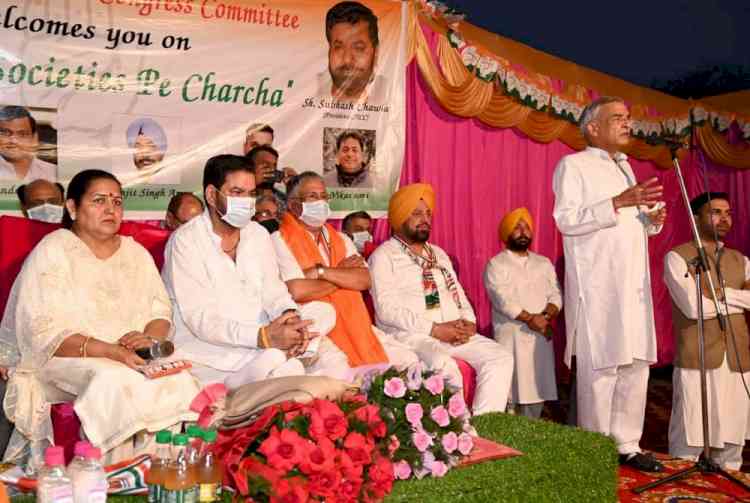 Former Union Minister, Pawan Bansal address a Chandigarh Territorial Congress Committee (CTCC) program on ''Housing Societies Pe Charcha' in Sector 49 , Chandigarh on Sunday.
Chandigarh, September 19, 2021: "Sounding poll bugle for Chandigarh Municipal Corporation elections, former Union Minister, Pawan Bansal has called upon the city residents to end miserable rule of BJP and bring Congress whose sole agenda is to work for the betterment of the general public. To give a befitting reply to the Central Government's oppressive and anti-public policies, Chandigarh MC Poll is a chance for the general public to defeat BJP and show them the mirror."
Bansal stated this while addressing a Chandigarh Territorial Congress Committee (CTCC) program on ''Housing Societies Pe Charcha' in Sector 49 here on Sunday.
Meenakshi Chaudhary, former President of Chandigarh Mahila Congress and currently General Secretary of CTCC, Davinder Gupta , President of Distt Congress Committee, Urban III , Jagir Singh Vice President CTCC, Vipanjit Singh Aman Secretary CTCC Parveen Nanang Banty Organising Secretary CTTC all from Societies area organized the programme which was presided over by President of Chandigarh Unit of Congress , Subash Chawla.
Talking about housing societies, Bansal said that we are well aware of the problems faced by its residents. The Chandigarh MC is in fact in paralytic condition since BJP came to power with no public welfare policies and plans in sight, he asserted.
On one side Central Government is so prompt in making new laws but on other side it has failed to make a one small law to empower MCs with more powers, he pointed out.  
The idea of setting up the cooperative societies in Chandigarh was planned to settle the working class in the city who put their hard earned money to buy flats in societies. However, exorbitant rates of conversion of properties from leasehold to freehold were a big jolt to the residents.
After coming to power, Congress would work to solve city residents' problems on priority basis along with ensuring the repair and maintenance of internal roads in Societies by MC itself, he maintained.  
Subash Chawla said that we have formed a team to chalk out the problems faced by society's residents. We would make a comprehensive plan to solve them after  coming to power at MC .
Among others, Harmail Kesar General Secretary CTCC, Vikas Soni the special invitee , Kamal Gupta , Pawan Singh Rana, Gurpinder Singh Bareri, Pawan Sharma, Vinod Sharma, Rajeev Sharma, Vikram Chopra, Sudharshan and Paramjeet Singh were also present during the occasion.