Concor partners APM Terminals Pipavav for anti-corruption webinar
An effective compliance programme to ensure corruption free industry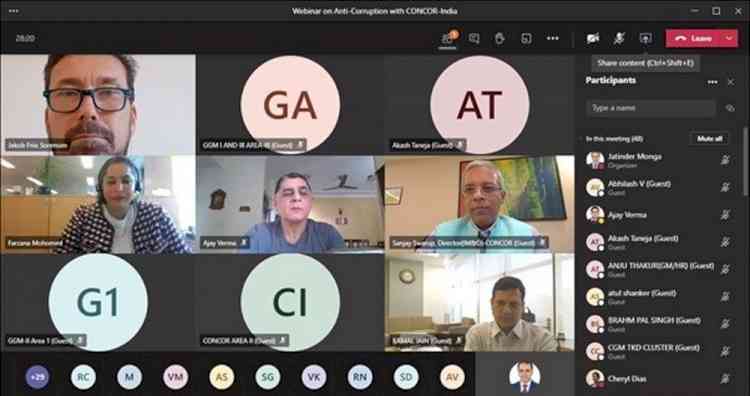 Chandigarh: CONCOR, a multi-modal logistics solution provider and a Navratna Company under the Indian Ministry of Railways partnered with APM Terminals Pipavav for a webinar focused on anti-corruption in logistics industry. As part of the vigilance week, CONCOR organised the webinar wherein Ms. Farzana Mohomed, Chief Compliance Officer, Maersk Group and Mr. Jakob Friis Sorensen, Managing Director, APM Terminals Pipavav were invited to share their insights.
 
The hour-long session commenced with the welcome address by Chief Vigilance Officer at CONCOR Shri Akash Taneja, followed by the introduction by Shri Sanjay Swarup, Director, International Marketing and Operations at CONCOR. The session ended with an interactive dialogue wherein all participants expressed their views and perspectives on the topic.
 
Mr. Jakob Friis Sorensen Managing Director APM Terminals Pipavav said, "We are grateful to CONCOR for inviting us for this webinar and allowing us to share our insights and practices. This is truly one of a kind initiative where Govt Company has partnered with Public limited company for issues surrounding anti-corruption and other compliances. At APM Terminals Pipavav, an effective compliance programme is a precursor to Sustainability as we believe that anti-corruption measures are required to establish global standards and procedures to reduce illegal, unethical and improper conduct to keep industry clean. Compliance is an integral part of our business operation in sync with our parent Maersk Group where compliance is embedded part of culture."
 
Entire management of CONCOR and staff members attended the webinar. The vision of A.P Moller Maersk on anti-corruption and compliance practices was well fathomed by the CONCOR group. A.P Moller Maersk believes in the need for 100% compliance in order to maintain the standard of a global company.